Jeffery Deaver launched his latest Colter Shaw novel, The Final Twist, at The Poisoned Pen, and he also gave fans hints as to the future books coming out in his Lincoln Rhyme and Colter Shaw series. You'll want to watch the video to find his plans for his future books. As to his present books, you can find signed copies of The Final Twist in the Web Store. https://bit.ly/30e1laZ
Here's The Final Twist.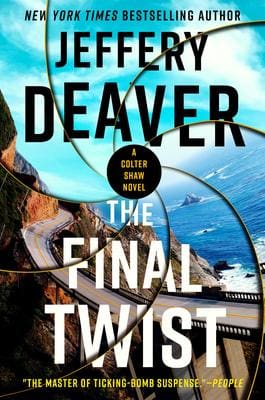 "The master of ticking-bomb suspense" (People) returns with a devilishly good thriller, and reward seeker Colter Shaw's most personal case to date.
Just hours after the harrowing events of The Never Game and The Goodbye Man, Colter Shaw finds himself in San Francisco, where he has taken on the mission his father began years ago: finding a missing courier bag containing evidence that will bring down a corporate espionage firm responsible for hundreds, perhaps thousands, of deaths.
Following the enigmatic clues his father left behind, Shaw plays cat and mouse with the company's sadistic enforcers, as he speeds from one gritty neighborhood in the City by the Bay to another. Suddenly, the job takes on a frightening urgency: Only by finding the courier bag can he expose the company and stop the murder of an entire family–slated to die in forty-eight hours.
With the help of an unexpected figure from his past, and with the enforcers closing the net, Shaw narrows in on the truth–and learns that the courier bag contains something unexpected: a secret that could only be described as catastrophic.
Filled with dozens of twists and reversals, The Final Twist is a nonstop race against time to save the family…. and to keep the devastating secret Shaw has uncovered from falling into the wrong hands.
---
Jeffery Deaver is the #1 international bestselling and award-winning author of more than forty novels, three collections of short stories, and a nonfiction law book. His books are sold in 150 countries and translated into twenty-five languages. A former journalist, folksinger, and attorney, he was born outside of Chicago and has a bachelor of journalism degree from the University of Missouri and a law degree from Fordham University.
---
Enjoy the recent virtual event.