The Poisoned Pen recently hosted Mary Dixie Carter with her debut novel, The Photographer, and Katherine St. John with her latest novel, The Siren. You can order signed copies of both books through the Web Store. https://store.poisonedpen.com/
Here's the debut novel, The Photographer.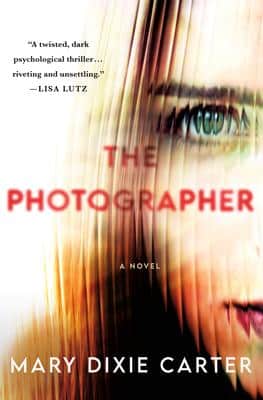 Mary Dixie Carter's The Photographer is a slyly observed, suspenseful story of envy and obsession, told in the mesmerizing, irresistible voice of a character who will make you doubt that seeing is ever believing.
WHEN PERFECT IMAGES
As a photographer, Delta Dawn observes the seemingly perfect lives of New York City's elite: snapping photos of their children's birthday parties, transforming images of stiff hugs and tearstained faces into visions of pure joy, and creating moments these parents long for.
ARE MADE OF BEAUTIFUL LIES
But when Delta is hired for Natalie Straub's eleventh birthday, she finds herself wishing she wasn't behind the lens but a part of the scene—in the Straub family's gorgeous home and elegant life.
THE TRUTH WILL BE EXPOSED
That's when Delta puts her plan in place, by babysitting for Natalie; befriending her mother, Amelia; finding chances to listen to her father, Fritz. Soon she's bathing in the master bathtub, drinking their expensive wine, and eyeing the beautifully finished garden apartment in their townhouse. It seems she can never get close enough, until she discovers that photos aren't all she can manipulate.
---
MARY DIXIE CARTER's writing has appeared in TIME, The Economist, the San Francisco Chronicle, the Chicago Tribune, The Philadelphia Inquirer, The New York Sun, The New York Observer and other print and online publications. She worked at The Observer for five years, where she served as the publishing director. In addition to writing, she also has a background as a professional actor. Mary Dixie graduated from Harvard College with an honors degree in English Literature and holds an MFA in Creative Writing from The New School. She lives in Brooklyn with her husband and two young children. The Photographer is her first novel.
---
Check out Katherine St. John's The Siren.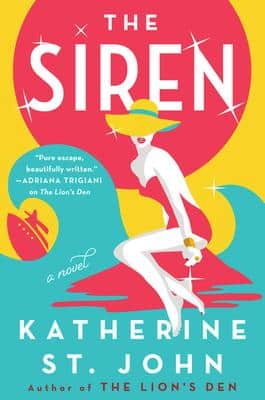 From Katherine St. John, author of The Lion's Den, comes another sublimely escapist thriller: When dangerously handsome megastar Cole Power hires his ex-wife, Stella Rivers, to act in his son's film, he sparks a firestorm on an isolated island that will unearth long-buried secrets — and unravel years of lies.In the midst of a sizzling hot summer, some of Hollywood's most notorious faces are assembled on the idyllic Caribbean island of St. Genesius to film The Siren, starring dangerously handsome megastar Cole Power playing opposite his ex-wife, Stella Rivers. The surefire blockbuster promises to entice audiences with its sultry storyline and intimately connected cast.
Three very different women arrive on set, each with her own motive. Stella, an infamously unstable actress, is struggling to reclaim the career she lost in the wake of multiple, very public breakdowns. Taylor, a fledgling producer, is anxious to work on a film she hopes will turn her career around after her last job ended in scandal. And Felicity, Stella's mysterious new assistant, harbors designs of her own that threaten to upend everyone's plans.
With a hurricane brewing offshore, each woman finds herself trapped on the island, united against a common enemy. But as deceptions come to light, misplaced trust may prove more perilous than the storm itself.
---
Katherine St. John is a native of Mississippi, graduate of the University of Southern California, and author of the critically acclaimed novel The Lion's Den. When she's not writing, she can be found hiking or on the beach with a good book. Katherine currently lives in Los Angeles with her husband and children.
---
Enjoy the virtual event featuring Mary Dixie Carter and Katherine St. John.