The Poisoned Pen recently hosted a virtual event featuring two authors who bookstore owner Barbara Peters referred to as "diabolical". Peter Swanson, owner of Every Vow You Break, hosted Linwood Barclay, author of Find You First. You can find the books by both authors in the Web Store. https://store.poisonedpen.com/
Here's the summary of Linwood Barclay's Find You First.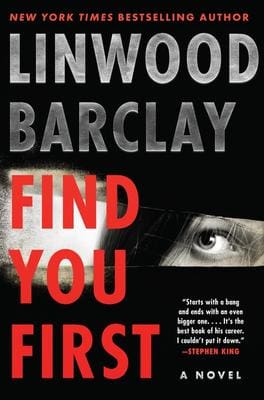 The New York Times bestselling author of Elevator Pitch andmaster of psychological suspense returns with a riveting thriller in which the possible heirs of a dying tech millionaire are mysteriously being eliminated, one by one.
"Find You First starts with a bang and ends with an even bigger one. . . . It's the best book of his career." — Stephen King
Tech millionaire Miles Cookson has more money than he can ever spend, and everything he could dream of—except time. He has recently been diagnosed with a terminal illness, and there is a fifty percent chance that it can be passed on to the next generation. For Miles, this means taking a long hard look at his past . . .
Two decades ago, a young, struggling Miles was a sperm donor. Somewhere out there, he has kids—nine of them. And they might be about to inherit both the good and the bad from him—maybe his fortune, or maybe something much worse.
As Miles begins to search for the children he's never known, aspiring film documentarian Chloe Swanson embarks on a quest to find her biological father, armed with the knowledge that twenty-two years ago, her mother used a New York sperm bank to become pregnant.
When Miles and Chloe eventually connect, their excitement at finding each other is overshadowed by a series of mysterious and terrifying events. One by one, Miles's other potential heirs are vanishing—every trace of them wiped, like they never existed at all.
Who is the vicious killer—another heir methodically erasing rivals? Or is something even more sinister going on?
It's a deadly race against time . . .
---
You might also be interested in Peter Swanson's Every Vow You Break.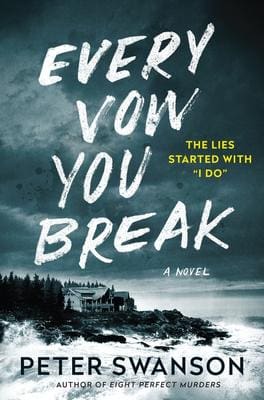 "Hitchcockian chills and thrills abound in Swanson's latest mystery, a twisty tale of survival and deception. " "" O, the Oprah Magazine

A bride's dream honeymoon becomes a nightmare when a man with whom she's had a regrettable one-night stand shows up in this electrifying psychological thriller from the acclaimed author of Eight Perfect Murders.

Abigail Baskin never thought she'd fall in love with a millionaire. Then she met Bruce Lamb. He's a good guy, stable, level-headed, kind—a refreshing twist from her previous relationships.

But right before the wedding, Abigail has a drunken one-night stand on her bachelorette weekend. She puts the incident—and the sexy guy who wouldn't give her his real name—out of her mind, and now believes she wants to be with Bruce for the rest of her life.

Then the mysterious stranger suddenly appears—and Abigail's future life and happiness are turned upside down. He insists that their passionate night was the beginning of something much, much more. Something special. Something real—and he's tracked her down to prove it.

Does she tell Bruce and ruin their idyllic honeymoon—and possibly their marriage? Or should she handle this psychopathic stalker on her own? To make the situation worse, strange things begin to happen. She sees a terrified woman in the night shadows, and no one at the resort seems to believe anything is amiss… including her perfect new husband.
Enjoy the conversation between Linwood Barclay and Peter Swanson.