Patrick Millikin from The Poisoned Pen and author Camille Kimball recently hosted Caitlin Rother, author of the true crime book, Death on Ocean Boulevard. You can find Rother's books in the Web Store. https://bit.ly/3gVaO1u
Here's Death on Ocean Boulevard.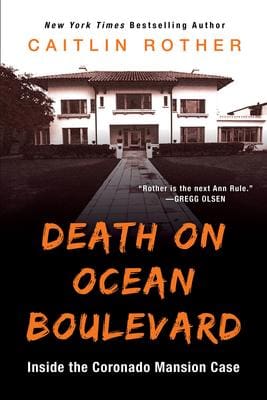 Award-winning investigative journalist and bestselling author Caitlin Rother explores the mysterious death of 32-year-old Rebecca Zahau, who was found hanging from a second-story balcony of her multimillionaire boyfriend's San Diego mansion in 2011. She was naked and gagged, with her ankles tied and hands bound behind her. On the door to her bedroom, investigators found a hand-written message: "SHE SAVED HIM CAN YOU SAVE HER." The death was deemed a suicide, but Rother reveals there's more to the story…
"I got a girl, hung herself in the guest house."
The call came on the morning of July 13, 2011, from the historic Spreckels Mansion, a lavish beachfront property in Coronado, California, owned by pharmaceutical tycoon and multimillionaire Jonah Shacknai. When authorities arrived, they found the naked body of Jonah's girlfriend, Rebecca Zahau, gagged, her ankles tied and her wrists bound behind her. Jonah's brother, Adam, claimed to have found Rebecca hanging by a rope from the second-floor balcony. On a bedroom door in black paint were the cryptic words: SHE SAVED HIM CAN YOU SAVE HER.
Was this scrawled message a suicide note or a killer's taunt? Rebecca's death came two days after Jonah's six-year-old son, Max, took a devastating fall while in Rebecca's care. Authorities deemed Rebecca's death a suicide resulting from her guilt. But who would stage either a suicide or a murder in such a bizarre, elaborate way?
Award-winning investigative journalist Caitlin Rother weaves stunning new details into a personal yet objective examination of the sensational case. She explores its many layers–including the civil suit in which a jury found Adam Shacknai responsible for Rebecca's death, and the San Diego County Sheriff's Department bombshell decision to reconfirm its original findings. As compelling as it is troubling, this controversial real-life mystery is a classic American tragedy that evokes the same haunting fascination as the JonBenet Ramsey and O.J. Simpson cases.
---
Enjoy the true crime conversation.