Barbara Peters, owner of The Poisoned Pen, recently hosted the conversation about Mystery Writers of America's latest anthology, When a Stranger Comes to Town. Michael Koryta is the editor of the book, and he appeared with two of the contributors, Lori Roy and Steve Hamilton. The anthology is available through the Web Store. https://bit.ly/2PIB0RS
Here's When a Stranger Comes to Town.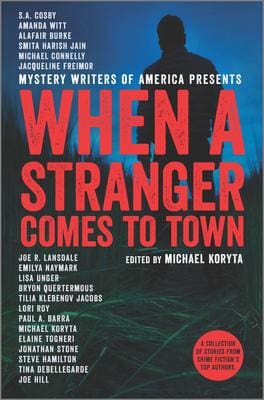 "Exceptional… This is the best kind of anthology, consistently excellent and inventive." –Publishers Weekly, starred review
The latest Mystery Writers of America story collection, featuring surprising, page-turning twists on the genrefrom some of the top bestsellers and award winners in crime fiction
It's been said that all great literature boils down to one of two stories—a man takes a journey, or a stranger comes to town. While mystery writers have been successfully using both approaches for generations, there's something undeniably alluring in the nature of a stranger: the uninvited guest, the unacquainted neighbor, the fish out of water.
No matter how or where they appear, strangers are walking mysteries, complete unknowns in once-familiar territories who disrupt our lives with unease and wonder. In the newest collection of stories by the Mystery Writers of America, each author weaves a fresh tale surrounding the eerie feeling that comes when a stranger enters our midst, featuring stories by prolific mystery writers such as Michael Connelly, Dean Koontz and Joe Hill.
---
Michael Koryta is the New York Times bestselling author of fourteen novels. His work has been translated into more than twenty languages and has won or been nominated for the Los Angeles Times Book Prize, Edgar Award, Shamus Award, Barry Award, Quill Award, International Thriller Writers Award and the Golden Dagger.
---
I think you'll enjoy the conversation.