While Barbara Peters, owner of The Poisoned Pen, opened the virtual event for Dean Koontz and his latest book, The Other Emily, Michael Koryta hosted most of the event. Peters, Koontz, and Koryta talked about the physical book, and book covers featuring spooky trees. You can order a copy (if you're lucky, a signed one) of The Other Emily through the Web Store. https://bit.ly/2LjYVjr
Here's The Other Emily.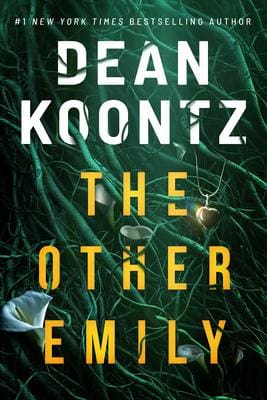 Number one New York Times bestselling master of suspense Dean Koontz takes readers on a twisting journey of lost love, impossible second chances, and terrifying promises.
A decade ago, Emily Carlino vanished after her car broke down on a California highway. She was presumed to be one of serial killer Ronny Lee Jessup's victims whose remains were never found.
Writer David Thorne still hasn't recovered from losing the love of his life, or from the guilt of not being there to save her. Since then, he's sought closure any way he can. He even visits regularly with Jessup in prison, desperate for answers about Emily's final hours so he may finally lay her body to rest. Then David meets Maddison Sutton, beguiling, playful, and keenly aware of all David has lost. But what really takes his breath away is that everything about Maddison, down to her kisses, is just like Emily. As the fantastic becomes credible, David's obsession grows, Maddison's mysterious past deepens—and terror escalates.
Is she Emily? Or an irresistible dead ringer? Either way, the ultimate question is the same: What game is she playing? Whatever the risk in finding out, David's willing to take it for this precious second chance. It's been ten years since he's felt this inspired, this hopeful, this much in love…and he's afraid.
---
International bestselling author Dean Koontz was only a senior in college when he won an Atlantic Monthly fiction competition. He has never stopped writing since. Koontz is the author of fourteen number one New York Times bestsellers, including One Door Away from Heaven, From the Corner of His Eye, Midnight, Cold Fire, The Bad Place, Hideaway, Dragon Tears, Intensity, Sole Survivor, The Husband, Odd Hours, Relentless, What the Night Knows, and 77 Shadow Street. He's been hailed by Rolling Stone as "America's most popular suspense novelist," and his books have been published in thirty-eight languages and have sold over five hundred million copies worldwide. Born and raised in Pennsylvania, he now lives in Southern California with his wife, Gerda, their golden retriever, Elsa, and the enduring spirits of their goldens Trixie and Anna. For more information, visit his website at www.deankoontz.com.
---
Enjoy the virtual event and the conversation.