Jacqueline Winspear has appeared for The Poisoned Pen since the first Maisie Dobbs was released. The Consequences of Fear is the sixteenth book in that series. At the time of the virtual event, there were still signed copies of it available, and signed copies of Winspear's memoir, This Time Next Year We'll Be Laughing. You'll want to check with the Web Store for availability. https://bit.ly/2JDLy0W
The Consequences of Fear is the Hot Book of the Week. Here's the summary of the book.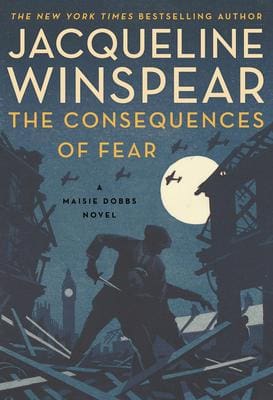 As Europe buckles under Nazi occupation, Maisie Dobbs investigates a possible murder that threatens devastating repercussions for Britain's war efforts in this latest installment in the New York Times bestselling mystery series.
October 1941. While on a delivery, young Freddie Hackett, a message runner for a government office, witnesses an argument that ends in murder. Crouching in the doorway of a bombed-out house, Freddie waits until the coast is clear. But when he arrives at the delivery address, he's shocked to come face to face with the killer.
Dismissed by the police when he attempts to report the crime, Freddie goes in search of a woman he once met when delivering a message: Maisie Dobbs. While Maisie believes the boy and wants to help, she must maintain extreme caution: she's working secretly for the Special Operations Executive, assessing candidates for crucial work with the French resistance. Her two worlds collide when she spots the killer in a place she least expects. She soon realizes she's been pulled into the orbit of a man who has his own reasons to kill—reasons that go back to the last war.
As Maisie becomes entangled in a power struggle between Britain's intelligence efforts in France and the work of Free French agents operating across Europe, she must also contend with the lingering question of Freddie Hackett's state of mind. What she uncovers could hold disastrous consequences for all involved in this compelling chapter of the "series that seems to get better with every entry" (Wall Street Journal).
---
Jacqueline Winspear is the author of the New York Times bestselling Maisie Dobbs series, which includes In This Grave Hour, Journey to Munich, A Dangerous Place, Leaving Everything Most Loved, Elegy for Eddie, and eight other novels. Her standalone novel, The Care and Management of Lies, was also a New York Times bestseller and a Dayton Literary Peace Prize finalist. Originally from the United Kingdom, she now lives in California.
---
Enjoy the virtual event as Barbara Peters, owner of The Poisoned Pen, hosts Jacqueline Winspear.