Barbara Peters, owner of The Poisoned Pen, recently hosted Peter Swanson, author of Every Vow You Break, for a virtual event. There are signed copies of his book in the Web Store. https://bit.ly/3r1qdyR
Here's Every Vow You Break.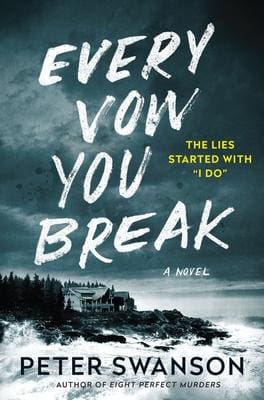 "Hitchcockian chills and thrills abound in Swanson's latest mystery, a twisty tale of survival and deception. " "" O, the Oprah Magazine
A bride's dream honeymoon becomes a nightmare when a man with whom she's had a regrettable one-night stand shows up in this electrifying psychological thriller from the acclaimed author of Eight Perfect Murders.
Abigail Baskin never thought she'd fall in love with a millionaire. Then she met Bruce Lamb. He's a good guy, stable, level-headed, kind—a refreshing twist from her previous relationships.
But right before the wedding, Abigail has a drunken one-night stand on her bachelorette weekend. She puts the incident—and the sexy guy who wouldn't give her his real name—out of her mind, and now believes she wants to be with Bruce for the rest of her life.
Then the mysterious stranger suddenly appears—and Abigail's future life and happiness are turned upside down. He insists that their passionate night was the beginning of something much, much more. Something special. Something real—and he's tracked her down to prove it.
Does she tell Bruce and ruin their idyllic honeymoon—and possibly their marriage? Or should she handle this psychopathic stalker on her own? To make the situation worse, strange things begin to happen. She sees a terrified woman in the night shadows, and no one at the resort seems to believe anything is amiss… including her perfect new husband.
---
Peter Swanson is the author of seven novels, including The Kind Worth Killing, winner of the New England Society Book Award, and finalist for the CWA Ian Fleming Steel Dagger; Her Every Fear, an NPR book of the year; Before She Knew Him, and Eight Perfect Murders. His books have been translated into 30 languages, and his stories, poetry, and features have appeared in Asimov's Science Fiction, The Atlantic Monthly, Measure, The Guardian, The Strand Magazine, and Yankee Magazine. He lives outside of Boston, where he is at work on his next novel.
---
Enjoy the conversation between Peter Swanson and Barbara Peters. (And, there's Swanson's cat in the background.)