A recent virtual event at The Poisoned Pen featured Phillip Margolin and friends in conversation. Margolin talked about A Matter of Life and Death, so he could talk about the a death case trial. Dan Bronson is the author of Someone to Watch Over Me. Barbara Peters, owner of The Poisoned Pen, moderated the conversation. You can order a signed copy of Margolin's book, while Bronson's book has to be special ordered through the Web Store. https://store.poisonedpen.com/
Here's A Matter of Life and Death.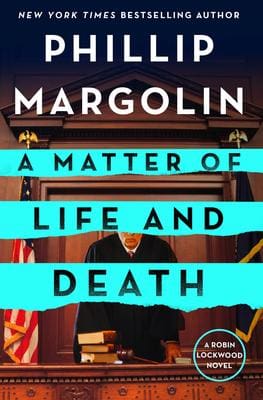 "A genuine whodunnit" (Kirkus Reviews)–Phillip Margolin, the master of the courtroom thriller, returns with A Matter of Life and Death, a classic mind-bending puzzle, as Attorney Robin Lockwood must face her most challenging case yet, with everything stacked against her client and death on the line.
Joe Lattimore, homeless and trying desperately to provide for his young family, agrees to fight in a no-holds-barred illegal bout, only to have his opponent die. Lattimore now finds himself at the mercy of the fight's organizers who blackmail him into burglarizing a house. However, when he breaks in, he finds a murdered woman on the floor and the police have received an anonymous tip naming him the murderer.
Robin Lockwood, an increasingly prominent young attorney and former MMA fighter, agrees to take on his defense. But the case is seemingly airtight—the murdered woman's husband, Judge Anthony Carasco, has an alibi and Lattimore's fingerprints are discovered at the scene. But everything about the case is too easy, too pat, and Lockwood is convinced that her client has been framed. The only problem is that she has no way of proving it and since this is a death case, if she fails then another innocent will die.
---
Check out Someone to Watch Over Me.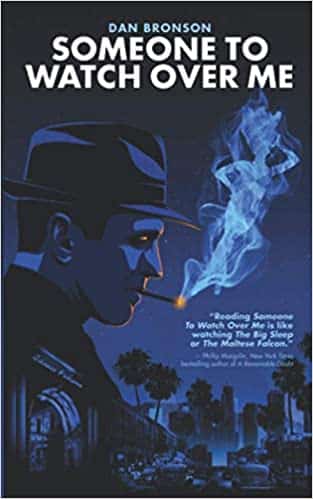 "Jack Shannon recalls Raymond Chandler's description of Phillip Marlowe: "˜Down these mean streets a man must go who is not himself mean, who is neither tarnished nor afraid.' Streets don't come any meaner than those of 1947 Hollywood, where corruption is systemic, where no one is who he or she seems to be, where life is a series of traps, and no man is better prepared to navigate those streets than Shannon, whose voice is as distinctive as Marlowe's."—Stephen Galloway, former Executive Editor of The Hollywood Reporter, current Dean of Chapman University's Dodge College of Film and Media Arts, author of Leading Lady: Sherry Lansing and the Making of a Hollywood Groundbreaker
"I cut my teeth on Dashiell Hammett and John D. MacDonald. Unfortunately, I had read all those works before I was thirty and have been enduring a long dry spell. The drought is over. Someone To Watch Over Me is an inside look at how the "˜dream factory' of the forties produced some blockbuster nightmares, and reminds the reader that noir is much more than gobo shadows dancing on a wall."—Gerald McRaney, actor (Major Dad)
"If Raymond Chandler had turned a steely eye to the notorious Hollywood casting couch, the result might well be called Someone To Watch Over Me. Dan Bronson gloriously re-animates the tones and textures of the noir novel in its classic era, while zeroing the thematic crosshairs onto subject matter directly relevant to the present day. From the dark allure of Tinseltown to the yacht slips of Catalina Island, and featuring a jaded-yet-resilient lead who knows more than he should about people with both secrets and power, this novel roars along like a Rocket 88, pinning the reader to the seat and never letting off the accelerator. It's a pulse-pounding, pitch-perfect ride in one of the great genres of American literature, and Dan Bronson drives like a master of the form."—Malcolm Brooks, author of Painted Horses and Cloudmaker.
"Reading Someone To Watch Over Me is like watching a classic 1940s black and white noir detective movie like The Big Sleep or The Maltese Falcon. There are murders, kidnappings, payoffs, mobsters and coverups in this gritty, inside look at the sleazy side of the post-World War Two motion picture industry. Too bad Humphrey Bogart and Robert Mitchum won't be available if they make a movie out of this excellent tough guy detective novel.—Phillip Margolin, New York Times bestselling author of A Reasonable Doubt.
"There was Sam Spade, Lew Archer, Travis McGee. Now there is Jack Shannon, intelligent, tough, unafraid, uniquely real, and all too humanly fallible. But Jack Shannon's beat is completely unlike any you have ever read, and it provides a glimpse into the dark and ugly side of Hollywood's glamorous Golden Age. This is noir at its best."—Jameson Parker, recovering actor (Simon and Simon), working writer (Dancing with the Dead)
"A film noir reeling off not on the screen but on the page. The writing is first-rate, full of movie-savvy observation and more than a few dollops of laugh-out-loud humor. A joy to read."—Douglas Soesbe, screenwriter (Robin Williams' Boulevard), former Story Editor at Tri-Star and Universal.
"A perfect film noir filled with scoundrels, scandals and skullduggery against the backdrop of the land of make-believe. Someone to Watch Over Me travels the boulevard of broken dreams with plenty of wit, vigor and shocking surprises, delivering one of the best reads I've had in a long time."—Ray Schilaci, The Movie Guys.
Dan Bronson has had many careers: Associate Professor of English at DePauw University, Senior Story Analyst at Universal, Associate Story Editor at Filmways, Executive Story Editor at Paramount, Writer-Producer of HBO's Ed Harris thriller The Last Innocent Man and NBC's cult classic Death of a Cheerleader, and author of the memoir Confessions of a Hollywood Nobody.
---
Enjoy the conversation between friends.