Carlene O'Connor was the St. Patrick's Day guest for The Poisoned Pen. She and Barbara Peters, owner of The Poisoned Pen, discussed Ireland and O'Connor's mysteries set in Ireland. O'Connor's latest Irish Village Mystery, Murder in an Irish Bookshop, can be ordered through the Web Store. https://bit.ly/2EViDDy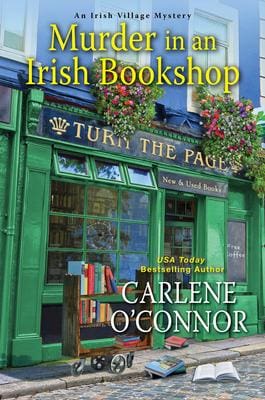 In Carlene O'Connor's seventh installment of her USA Today bestselling Irish Village Mystery series, the grand opening of a new bookstore in Kilbane becomes the closing chapter of an author's life–and a whodunit that tests even Garda Siobhán O'Sullivan's deductive reasoning…
"A mélange of clues from classic mysteries plus plenty of Irish charm produce an enjoyable read."–Kirkus Reviews
Join a bestselling author and travel to County Cork in Ireland to solve a bookish mystery full of twists in a cozy whodunit perfect for fans of Sheila Connolly, Kate Carlisle, and Laura Childs!
Between training the new town garda and trying to set a wedding date with her fiancé, Macdara Flannery, Siobhán O'Sullivan is feeling a bit overwhelmed. She's looking forward to visiting the new bookshop and curling up with an exciting novel–only to discover the shelves contain nothing but Literature with a capital L. The owner not only refuses to stock romances, mysteries, and science fiction, but won't even let customers enter his store unless they can quote James Joyce or Sean Hennessey.
Despite the owner deliberately limiting his clientele, he's hosting a reading and autographing event featuring up and coming Irish writers who will be taking up residency in Kilbane for a month. Among them is indie author Deirdre Walsh, who spends more time complaining about the unfairness of the publishing industry and megastar bestsellers instead of her own creative works, causing a heated debate among the writers. She seems to have a particular distaste for the novels of Nessa Lamb.
Then Deirdre's body is found the next day in the back of the store–with pages torn from Nessa's books stuffed in her mouth. Now, Siobhán must uncover which of Kilbane's literary guests took Deirdre's criticisms so personally they'd engage in foul play . . .
---
Carlene O'Connor is the USA Today bestselling author of the acclaimed Irish Village Mysteries and the Home to Ireland Mysteries. Born into a long line of Irish storytellers, her great-grandmother emigrated from Ireland filled with tales in 1897 and the stories have been flowing ever since. Of all the places across the pond she's wandered, she fell most in love with a walled town in County Limerick and was inspired to create the town of Kilbane, County Cork, the setting of her Irish Village Mystery series. Carlene currently divides her time between Chicago and the Emerald Isle. Please visit her online at CarleneOConnor.net.
---
Enjoy the conversation.