Janet Skeslien Charles is the author of the hot book, The Paris Library. It's the #1 Pick for February 2021 for Indie Next, and the #! pick for LibraryReads, selected by librarians. One of Mark Pryor's Hugo Marston mysteries is called The Paris Librarian. With both books involving the American Library in Paris, Pryor was the perfect person to lead the conversation about Charles' book. It might take a little time to get a copy of The Paris Library. Barbara Peters, owner of The Poisoned Pen said it was moving quickly. You can order it through the Web Store. https://bit.ly/3b6XhiZ
Here's The Paris Library.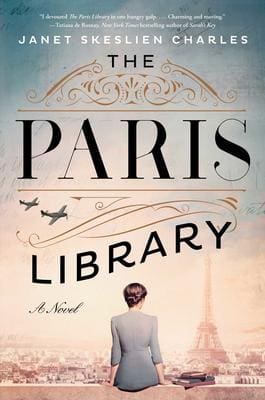 #1 LibraryReads Pick
Named a Most Anticipated Book of the Year by Library Journal and Goodreads
"‹"‹Based on the true World War II story of the heroic librarians at the American Library in Paris, this is an unforgettable story of romance, friendship, family, and the power of literature to bring us together, perfect for fans of The Lilac Girls and The Paris Wife.
Paris, 1939: Young and ambitious Odile Souchet has it all: her handsome police officer beau and a dream job at the American Library in Paris. When the Nazis march into Paris, Odile stands to lose everything she holds dear, including her beloved library. Together with her fellow librarians, Odile joins the Resistance with the best weapons she has: books. But when the war finally ends, instead of freedom, Odile tastes the bitter sting of unspeakable betrayal.
Montana, 1983: Lily is a lonely teenager looking for adventure in small-town Montana. Her interest is piqued by her solitary, elderly neighbor. As Lily uncovers more about her neighbor's mysterious past, she finds that they share a love of language, the same longings, and the same intense jealousy, never suspecting that a dark secret from the past connects them.
A powerful novel that explores the consequences of our choices and the relationships that make us who we are—family, friends, and favorite authors—The Paris Library shows that extraordinary heroism can sometimes be found in the quietest of places.
---
Janet Skeslien Charles is the award-winning author of Moonlight in Odessa, which was published in ten languages. Her shorter work has appeared in revues such as Slice and Montana Noir. Janet first became interested in the incredible true story of the librarians who stood up to the Nazi "Book Protector" when she worked as the program's manager at the American Library in Paris. Her novel The Paris Library will be published in seventeen countries. She divides her time between Montana and Paris. Visit her at JSkeslienCharles.com or connect with her on Twitter @skesliencharles.
---
Here's the fascinating conversation about The Paris Library, writing, and Paris itself.