Barbara Peters, owner of The Poisoned Pen, had the opportunity to introduce debut Julie Carrick Dalton, author of Waiting for the Night Song. Dalton talked about the New Hampshire setting and her novel. You can order copies of the book through the Web Store, https://bit.ly/2NbwWZ4
Here's Waiting for the Night Song.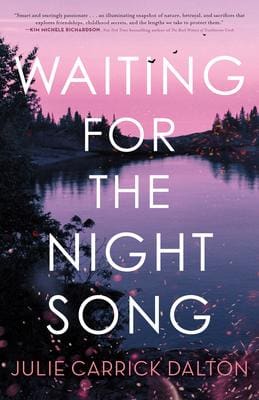 Named a Most Anticipated book by Newsweek * USA Today * CNN * Parade * Buzzfeed * Medium * GoodReads * PopSugar * Frolic Media * Betches * The Nerd Daily * SheReads and more

"Smart and searingly passionate…an illuminating snapshot of nature, betrayal, and sacrifices set in the evocative New Hampshire wilderness."–Kim Michele Richardson, bestselling author of The Book Woman of Troublesome Creek
A startling and timely debut, Julie Carrick Dalton's Waiting for the Night Song is a moving, brilliant novel about friendships forged in childhood magic and ruptured by the high price of secrets that leave you forever changed.
Cadie Kessler has spent decades trying to cover up one truth. One moment. But deep down, didn't she always know her secret would surface?
An urgent message from her long-estranged best friend Daniela Garcia brings Cadie, now a forestry researcher, back to her childhood home. There, Cadie and Daniela are forced to face a dark secret that ended both their idyllic childhood bond and the magical summer that takes up more space in Cadie's memory then all her other years combined.
Now grown up, bound by long-held oaths, and faced with truths she does not wish to see, Cadie must decide what she is willing to sacrifice to protect the people and the forest she loves, as drought, foreclosures, and wildfire spark tensions between displaced migrant farm workers and locals.
Waiting for the Night Song is a love song to the natural beauty around us, a call to fight for what we believe in, and a reminder that the truth will always rise.
---
As a journalist, JULIE CARRICK DALTON has published more than a thousand articles in The Boston Globe, BusinessWeek, The Hollywood Reporter, and other publications. She contributes to DeadDarlings, The Writer Unboxed, and GrubStreet's writer's blogs. She also owns and operates a small farm in rural New Hampshire, the backdrop for Waiting for the Night Song, her debut.
---
Enjoy the book chat with Julie Carrick Dalton and Barbara Peters.