This country should pay back poor Lee Goldberg and Jason Pinter. Last year, when the first books in their new series came out, it was on the eve of the COVID pandemic. Now, when the second book came out, the U.S. experienced an insurrection. So, check out the new books by the authors, Lee Goldberg's Bone Canyon and Jason Pinter's A Stranger at the Door. You can find signed copies of their books in the Web Store. https://store.poisonedpen.com/
Here's the summary of Bone Canyon.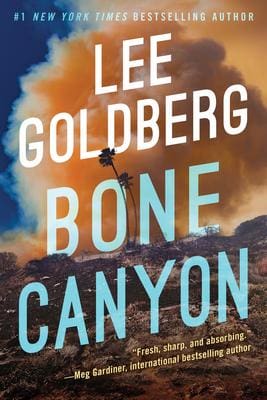 A cold case heats up, revealing a deadly conspiracy in a twisty thriller by #1 New York Times bestselling author Lee Goldberg.
A catastrophic wildfire scorches the Santa Monica Mountains, exposing the charred remains of a woman who disappeared years ago. The investigation is assigned to Eve Ronin, the youngest homicide detective in the Los Angeles County Sheriff's Department, a position that forces her to prove herself again and again. This time, though, she has much more to prove.
Bones don't lie, and these have a horrific story to tell. Eve tirelessly digs into the past, unearthing dark secrets that reveal nothing about the case is as it seems. With almost no one she can trust, her relentless pursuit of justice for the forgotten dead could put Eve's own life in peril.
---
Here's Jason Pinter's A Stranger at the Door.
From the Amazon bestselling author of Hide Away comes the gripping second installment of the Rachel Marin Thriller series.
Rachel Marin is in a good place. After years of struggle, the single mother has found both a stable, loving relationship and a new purpose: putting her investigative skills to work solving crimes for the local PD. But just as the pieces of her life are finally starting to fall into place, her teenaged son's teacher is gruesomely murdered, starting a domino effect that shatters her peaceful existence.
When Rachel discovers an ominous email the teacher sent to her just before his death, she knows she must help bring his killer to justice. But soon a figure from her past reappears, threatening to expose Rachel's darkest secrets if she doesn't tread lightly. And when her son is recruited by a shadowy businessman who may be connected to the murder, Rachel knows this has just gotten very, very personal.
Someone out there is dead set on keeping this grisly cover-up good and buried, which means if Rachel's not careful, it's only a matter of time before her dream life becomes her worst nightmare.
---
Enjoy the conversation with Barbara Peters, owner of The Poisoned Pen, and authors Lee Goldberg and Jason Pinter.