There's so much to discuss when it comes to Agatha Christie! The Poisoned Pen's recent Booknews has a lengthy post. Barbara Peters, owner of the Pen, shared her comments here.
Christie, Agatha. Poirot Investigates ($9.95). A collection of stories featuring eccentric Hercule Poirot. Knopf has bought the Christies away from Collins, or so it seems, so expect a spate of reissues with probable new material in introductions and such. You can find this in the Web Store. https://bit.ly/3oKgm03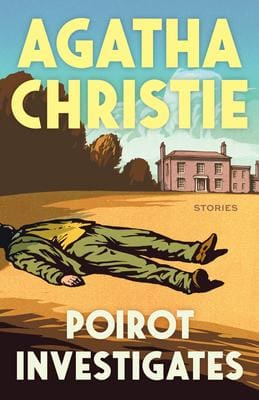 The first collection of short stories featuring one of the world's favorite fictional detectives, Hercule Poirot
No criminal can outwit Agatha Christie's famously eccentric Belgian detective as he uses his little grey cells to solve a series of ingenious crimes. From a film star's disappearing diamond to a death in a locked room to the abduction of a prime minister, no plot is too fiendishly clever to withstand Hercule Poirot's deductive powers for long. A treat for mystery lovers of all kinds, this collection of short stories proves once gain that Christie is the queen of mystery.
Also PBS will kick off the year 2021 with two TV documentaries focused on the life and publishing career of Agatha Christie, author of more than 60 murder mysteries and easily one of the most popular and successful novelists in the world. The two forthcoming specials are Inside the Mind of Agatha Christie, which will broadcast on January 17 at 10 p.m. EST, and Agatha Christie's England, which will broadcast January 24 at 10 p.m. EST, on PBS, PBS.org, and on the PBS video app. Both programs will stream online simultaneously with the broadcast and will be available on iOS, Android, Roku, Apple TV, Amazon Fire TV, Android TV, Samsung Smart TV and Chromecast. Both programs will be narrated by Samantha Bond.
Inside the Mind of Agatha Christie offers Christie fans rare access to her family members, scholars and her personal archive. The film will delve into her isolated childhood, her time as a nurse during WWI (which gave her the background medical knowledge for her use of poison, blood and gore in her books), as well as the breakdown of her first marriage and her mysterious disappearance for 11 days in 1926.
Agatha Christie's England will explore how Christie created a literary universe that shaped the world's image of England. The settings of her books were taken from real places and the film will explore her surroundings, among them Ugbrook House, where she met her first husband, Abney Hall, the inspiration for Christie's iconic country house murder settings, and the boathouse at Greenway, her country retreat. Which I visited in 1990 and had a private tour with her grandson Matthew Pritchard.