Fans of mysteries know that one of the few unbreakable rules is that writers don't kill pets. In an article for CrimeReads, Sulari Gentill took on that topic. "Every Mystery Writer Knows, You Can Kill Anyone but the Dog", https://bit.ly/2XF3Pii.
It's an excellent article, both for the topic and because of Gentill's writing. So, let's talk about Sulari Gentill's writing. Her ninth Rowland Sinclair World War II mystery, Shanghai Secrets, was released this week. You can order that book, and the others in the series, through the Web Store. https://bit.ly/2N5KsYB
Here's the summary of Shanghai Secrets.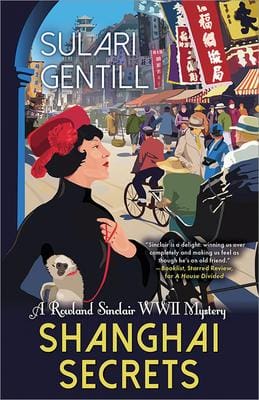 In a city full of strangers, be careful whom you trust…
Shanghai, 1935. Black sheep gentleman Rowland Sinclair arrives with his bohemian housemates from Sydney, Australia to explore a new city and take the name Sinclair international with a new class of negotiations. A novice to global commerce, Rowland is under strict instructions from his brother to keep a low profile…but that soon becomes next to impossible. A beautiful Russian taxi girl—who once claimed to be the Princess Anastasia and who danced in Rowly's arms the night before—is found slain in his suite.
Out of sympathy for the murdered girl and to clear his name, Rowly and his companions embark upon their own investigation. They soon discover there are many people who may have wanted Alexandra Romanovna dead. As they are drawn deeper into Shanghai society and its underworld, Rowly searches for answers in a strange city determined to ruin him.
Exploring the simmering underbelly of Shanghai just years before WWII, Shanghai Secrets is a historical mystery that brings alive an expatriate playground where East and West collide, the stakes are high, and fortunes—and lives—are easily lost.
---
After setting out to study astrophysics, graduating in law and then abandoning her legal career to write books, Sulari now grows French black truffles on her farm in the foothills of the Snowy Mountains of NSW. Sulari is author of The Rowland Sinclair Mystery series, historical crime fiction novels (nine in total) set in the 1930s. Sulari's A Decline in Prophets (the second book in the series) was the winner of the Davitt Award for Best Adult Crime Fiction 2012. She was also shortlisted for Best First Book (A Few Right Thinking Men) for the Commonwealth Writers' Prize 2011. Paving the New Road was shortlisted for another Davitt in 2013.