Author Jenn McKinlay recently turned moderator to grill her friends and fellow mystery authors, Kate Carlisle and Paige Shelton. Carlisle's latest book is Premeditated Mortar and Shelton's is Cold Wind. You can find the books of both authors, and McKinlay's books, through the Web Store. https://store.poisonedpen.com/
Here's the summary of Premeditated Murder.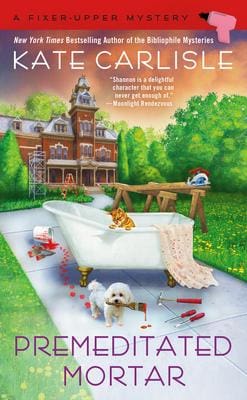 Contractor Shannon Hammer gets tangled up in murder at a spooky old asylum in the latest Fixer-Upper Mystery from New York Times bestselling author Kate Carlisle. . . .

Shannon Hammer is about to embark on one of the biggest projects of her career. Her best friend Jane Hennessey has purchased one wing of the Gables, formerly the old state insane asylum, located on a bucolic hillside two miles northeast of Lighthouse Cove. Jane plans to turn her section into a small luxury hotel complete with twenty ocean-view rooms, a spa, and a restaurant.
Shannon is raring to get started on the enormous project and is shocked when a group of unruly protesters shows up at the groundbreaking ceremony and wreaks havoc. She's even more freaked-out when someone pushes her into a pit of bricks in a closed-off room of the asylum. Despite her close call, Shannon wants nothing more than to get back to work . . . until she finds a body not far from where she was pushed. Now Shannon is determined to get to the bottom of the goings-on at the Gables even if it kills her. . . .
Here's Paige Shelton's Cold Wind.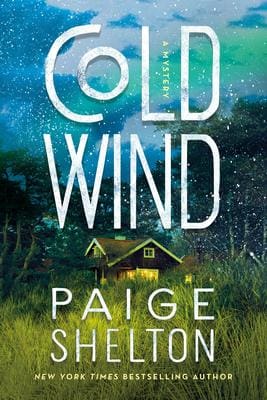 Second in a new series set in Alaska from beloved cozy author Paige Shelton, Cold Wind will chill your bones.

Beth Rivers is still in Alaska. The unidentified man who kidnapped her in her home of St. Louis hasn't been found yet, so she's not ready to go back.
But as October comes to a close, Benedict is feeling more and more like her new home. Beth has been working on herself: She's managed to get back to writing, and she's enjoying these beautiful months between summer and winter in Alaska.
Then, everything in Benedict changes after a mudslide exposes a world that had been hidden for years. Two mud-covered, silent girls appear, and a secret trapper's house is found in the woods. The biggest surprise, though, is a dead and frozen woman's body in the trapper's shed. No one knows who she is, but the man who runs the mercantile, Randy, seems to be in the middle of all the mysteries.
Unable to escape her journalistic roots, Beth is determined to answer the questions that keep arising: Are the mysterious girls and the frozen body connected? Can Randy possibly be involved? And—most importantly—can she solve this mystery before the cold wind sweeping over the town and the townspeople descends for good?
*****
Join the three mystery authors in conversation.