Patrick Millikin recently hosted K'wan, the award-winning author of Black Lotus 2: The Vow and more than thirty other novels. His books can be found in the Web Store, https://bit.ly/37izewN
First, here's K'wan's biography.
K'WAN is the best-selling, award-winning author of more than thirty novels, including the wildly popular Animal series, Black Lotus, Gangsta, Road Dawgz, Street Dreams, Hoodlum, and Section 8. He has been featured in Vibe, King, Entertainment Weekly, and Time magazine. K'wan was the recipient of the 2012 and 2013 Street Lit Book Award Medals (SLBAM) in adult fiction for Eviction Notice and Animal. His credits also include featured commentary in the documentary Iceberg Slim: Portrait of a Pimp (produced by Ice-T) as well as a recurring role as an analyst on TV One's Celebrity Crime Files. K'wan resides in New Jersey, where he spends his time writing, cooking, and binge-watching reruns of The Vampire Diaries with his teenage daughters.
Check out Black Lotus 2: The Vow.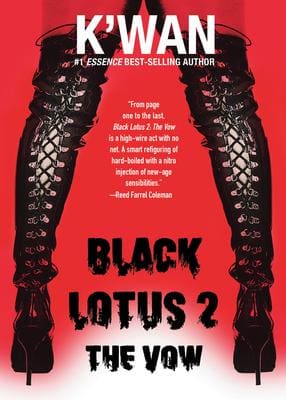 After the death of a police officer, assassin Kahllah (aka the Black Lotus) is forced out of retirement in an attempt to clear her name while outrunning a mysterious enemy.
"Black Lotus 2: The Vow is full of the cinematic action and drama that K'wan is known for. Readers will be anxiously waiting for the next installment."
—Urban Reviews
"[A] riveting read from start to finish…Excellent."
—Exclusive Magazine
"K'wan delivers a lean, tightly plotted tale that balances noir aesthetics with comic book flair. Fans of pulp and urban lit will be well satisfied."
—Publishers Weekly
"From page one to the last, K'wan'sBlack Lotus 2: The Vow is a high-wire act with no net. A smart refiguring of hard-boiled with a nitro injection of new-age sensibilities."
—Reed Farrel Coleman, New York Times best-selling author of Walking the Perfect Square
"Like a cool, hip, and fun evening at a vintage drive-in,Black Lotus 2: The Vow takes me back to a time when Jim Kelly, Pam Grier, and Fred Williamson graced the big screen. Throw in some Bruce Lee and a littleThe Last Dragon and you have a hell of a butt-kicking, action-filled ride."
—Ace Atkins, New York Times best-selling author of The Shameless
"Black Lotus 2: The Vow is a thrilling roller-coaster ride of a mystery that kept me on the edge of my seat!"
—Bernice L. McFadden, author of The Book of Harlan
It's been months since Kahllah El-Amin, aka the Black Lotus, hung up her pistols, retired from the murder-for-hire business, and finally found peace. But when a police officer is murdered and a familiar flower is left at the crime scene, all signs point to it being the work of the Black Lotus. Someone is trying to frame her. Things get more complicated when the case is handed to Detective James Wolf, a former adversary who has since become a friend.
To clear her name, Kahllah is forced out of retirement and once again must don the mask of the Black Lotus. She races against time to catch the real killer while trying to outrun her most formidable rival. Their deadly game leads to a shocking truth buried under a mountain of lies, as Kahllah attempts to find justice in a world devoid of light.
*****
You can enjoy the conversation here.