Marty Wingate's mystery, Murder is a Must, is the Hot Book of the Week at The Poisoned Pen. Signed copies are available through the Web Store. https://bit.ly/3gJxakg
Here is the summary of Murder is a Must.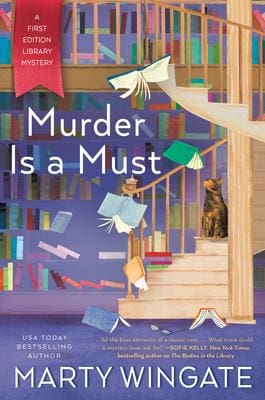 ermined to make the First Edition Library a success, Hayley Burke wasn't expecting to have to solve an old friend's murder in this all-new mystery from USA Today bestselling author Marty Wingate.

Hayley Burke, curator of Lady Fowling's collection of first edition mysteries, is settling into her position at the First Edition Library in Middlebank House. She's even made progress with Lady Fowling's former secretary, the ornery Miss Woolgar. The women are busily preparing for an exhibition that will showcase Lady Fowling's life and letters. Hayley knows the exhibition is a huge undertaking and decides, against her better judgement, to hire Oona Atherton, her former boss from the Jane Austen Centre to help with the planning.
 
     Oona is known for being difficult, but all seems to be going swimmingly until she and Hayley uncover a one-page letter that alludes to a priceless edition of MURDER MUST ADVERTISE signed by several Golden Age of Mystery authors. Oona feels this book could be the focal point of the exhibition and becomes obsessed with finding it.
 
     When they find clues that appear to point to the book being somewhere in the First Edition Library, Oona is certain she's unraveled the mystery and texts Hayley the good news, but upon arriving back at Middlebank, Hayley finds her old boss dead at the bottom of the stairs. Did her discovery of the rare book get her killed or was it some angry shadow from her past? Hayley must read between the lines to catch a malicious murderer.