Val McDermid's latest Karen Pirie book, Still Life, is The Poisoned Pen's October British Crime Novel of the month. McDermid spoke to Barbara Peters, owner of the bookstore, from Edinburgh, on the occasion of the 31st anniversary of the store. Peters said Val McDermid has been with them almost from the beginning. You can order copies of her books, including Still Life, through the Web Store. https://bit.ly/2AHVqg1
Here's the summary of Still Life.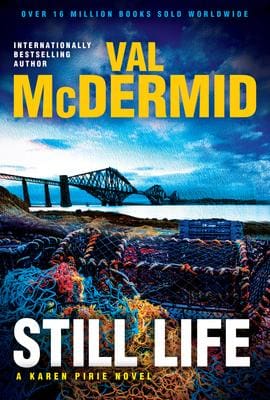 Val McDermid is the award-winning, international bestselling author of more than thirty novels and has been hailed as Britain's Queen of Crime. InStill Life, McDermid returns to her propulsive series featuring DCI Karen Pirie, who finds herself investigating the shadowy world of forgery, where things are never what they seem.
When a lobster fisherman discovers a dead body in Scotland's Firth of Forth, Karen is called into investigate. She quickly discovers that the case will require untangling a complicated web—including a historic disappearance, art forgery, and secret identities—that seems to orbit around a painting copyist who can mimic anyone from Holbein to Hockney. Meanwhile, a traffic crash leads to the discovery of a skeleton in a suburban garage. Needless to say, Karen has her plate full. Meanwhile,the man responsible for the death of the love of her life is being released from prison, reopening old wounds just as she was getting back on her feet.
Tightly plotted and intensely gripping,Still Life is Val McDermid at her best, and new and longtime readers alike will delight in the latest addition to this superior series.
*****
Now, you can watch the virtual event with Val McDermid.