Oh, this is a virtual event that Lee Child or Jack Reacher's fans will want to watch. Barbara Peters, owner of The Poisoned Pen, kicks off the conversation between Lee Child and Heather Martin, author of The Reacher Guy. They talk about Child's memory, and the witnesses to his life, and what is actually true. There are signed copies of this biography available through the Web Store. https://bit.ly/3lx7Nnj
Here's the background of The Reacher Guy.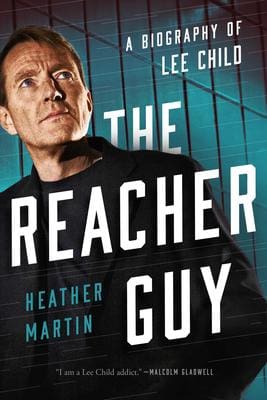 An exquisitely written and nuanced biography of an exceptional individual and writer who has created the # 1 international bestselling hero Jack Reacher, revered by dedicated and loyal readers worldwide.
Lee Child has a great public persona: he is gracious and generous with readers and fans. But Jim Grant is a reticent and very private man.
This rags-to-riches literary and social biography is based principally on disarmingly frank personal conversations and correspondence with the author since 2016 and privileged access to archival materials. It consists almost entirely of original material, and is the nearest thing the world is likely to get to the autobiography he does not intend to write.
There are a handful of great Lee Child/Reacher stories that have been recycled over and over again. They are so good that no one has bothered to look beyond them. This book revisits (and sometimes revises) those irresistible stories, but goes back further and digs deeper. The emphasis on chronology, accuracy and specificity is unprecedented.
The Lee Child origin myth is much loved. But mostly it sees him springing fully formed from the brow of Granada Television. There are glancing references to Aston Villa and the schoolyard, but no one has examined the social and historical detail or looked closely at where Lee really came from: the people, places and period.
This is the first time someone has described the Lee Child arc: from peaceful obscurity in the Yorkshire Dales and Upstate New York to cult figure, no. 1 in America, rock star, celebrity and publishing institution through to backlash, the changing zeitgeist, and intimations of retirement. The analysis of the emotional power and significance of Lee's work in the final chapters—the themes of happiness, addiction, dependency, loneliness, and existential absurdity—and the first-hand retrospective accounts of his life and second-act career are all exclusive to this definitive biography.
*****
You'll want to watch this virtual event.