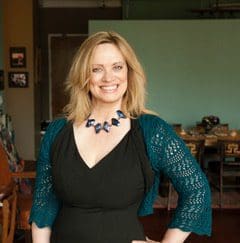 Are you ready for the first Christmas book of the season? Carlene O'Connor is the author of the Irish Village Mysteries. Her new one, Murder at an Irish Christmas, will be released October 27. It's not too early to pre-order a copy. That book, and the others in her series, can be ordered through the Web Store. https://bit.ly/2EViDDy
Carlene O'Connor is the USA Today bestselling author of the acclaimed Irish Village Mysteries and the Galway Ireland Mysteries. She comes from a long line of Irish storytellers. Her great-grandmother emigrated from Ireland filled with tales in 1897 and the stories have been flowing ever since. Of all the places across the pond she's wandered, she fell most in love with a walled town in County Limerick and was inspired to create the town of Kilbane, County Cork. Carlene currently divides her time between Chicago and the Emerald Isle. Please visit her online at CarleneOConnor.net.
*****
Carlene O'Connor may set her books in Ireland, but, like all of us, she reads a variety of books. Today, for "Distractions", she shares the books she's been reading during the pandemic. You can find her book suggestions in the Web Store. https://store.poisonedpen.com/
*****
DISTRACTIONS
by Carlene O'Connor
I'm hoping this find everyone safe and somewhat sound. This has been a challenging year on so many fronts, that I can say with all honesty I have needed books to escape into more than ever this year. Relying on phone calls to stay in touch with family, my mom and I were reminiscing about the bookmobile that used to stop directly across from our house every week. The eagerness with which my sister and I would greet it, entering with empty arms and leaving with stacks. Often a Lois Duncan suspense was the prize find of my childhood summers. And this summer I've found myself more interested in psychological suspense and mysteries than any other genre. I want to first mention the book I'm in the middle of reading and love so I must pre-emptively recommend it although many of you may be way ahead of me– My Sister the Serial Killer by Oyinkan Braithewaite — it's compelling and keeping me extremely occupied. And next on my list is Blacktop Wasteland by S.A. Cosby. Now onto the books I have completed and recommend if you too are looking for a much-needed distraction:
All the Broken People by Leah Konen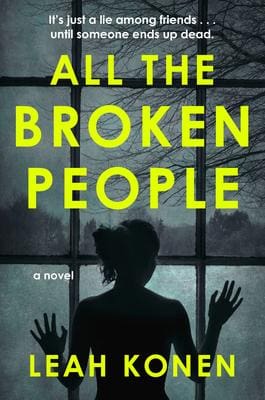 I must admit, part of what drew me to this book (besides my obsession with psychological thrillers) is that I have been harboring a fantasy of moving to Woodstock New York– yes, in these times of living in a city during a pandemic my mind starts to wander to having a front porch, a small town– hey, this rustic, artsy town is only a few hours from NYC, in the Catskills, and what better setting for a thriller? In this tale, Lucy King is also escaping the city– Brooklyn New York– to find peace and hopefully leave her darker past behind. We're left with only hints of what this past entails– or who– it seems she's running from an ex. She soon befriends her neighbors, a solid couple who invites her for wine-fueled dinners and long hikes. She's growing very close to this pair. Maybe too close to the husband. But when a plan the couple hatches with Lucy ends up with one of the husbands dead after a hike, this peaceful retreat is about to turn into Lucy's worst nightmare. This one definitely kept me turning pages and although I wish I was in a book club to discuss certain aspects of it, I recommend the read. And you won't have to pay Woodstock taxes, which as I've discovered are crazy high.
What You Don't See by Tracy Clark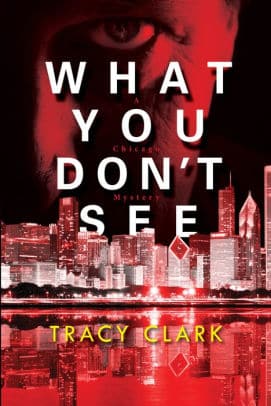 Full disclosure I'm a big fan of Tracy Clark and her Chicago Mysteries featuring Cass Raines. I know I'm always going to get whip smart dialogue, rich setting, and characters that leap off the page. In this installment, celebrity Vonda Allen, whose glitzy magazine is the talk of the town, hires Cass as a bodyguard for a book tour after she receives a death threat. Given her mercurial personality, anyone could be sending them. And when two of her staff turn up dead, and Cass's friend and ex-partner is slashed with a knife, my favorite PI will be on that case until it's solved. And What You Don't See is the perfect title, because this had an ending I did not see coming.
You Again by Debra Jo Immergut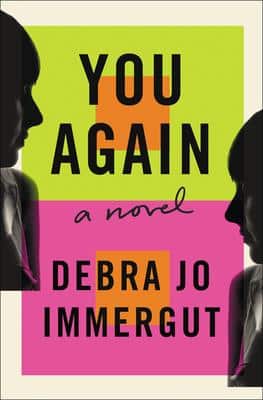 After reading a review in the paper, this one intrigued me. A woman in New York City, thinks she spots her younger self getting into a taxi. Really, do you need to hear more than that? What are you waiting for? Go! It's worth it.
Home Before Dark by Riley Sager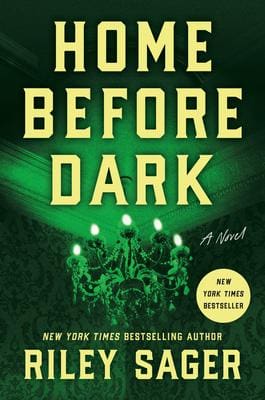 Another confession– I've read and will continue to read everything Riley Sager writes. And given I love older houses– especially haunted ones– I was first in line to read this when it released. Another short intro– a woman returns to the house made famous by her father's bestselling horror memoir. Hello! Enough said– give me the book. I raced through it. Another one I wished I had a book group to discuss certain aspects. Well worth the distraction! I hope he's writing fast, I'm ready for the next.
*****
As I mentioned, you can pre-order copies of the most recent mystery by Carlene O'Connor, and you can order her other books through the Web Store. https://bit.ly/2EViDDy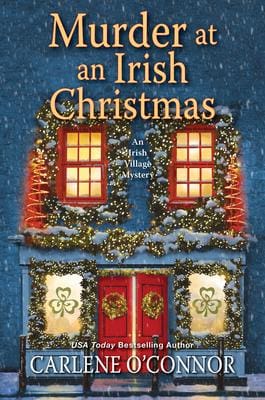 The O'Sullivan clan of County Cork, Ireland, are back to investigate another case of murder–this time at Christmas!
Garda Siobhán O'Sullivan's holiday plans hit a sour note when murder rearranges the Yuletide carols into unexpected eulogies…
This December in Kilbane, if you're planning to warm up with a cuppa tea at Naomi's Bistro, you may have a bit of a wait–the entire O'Sullivan brood has gone off to West Cork to spend the holidays with brother James' fiancée Elise's family, including her grandfather, the famous orchestral conductor Enda Elliot. Siobhán is so happy for James and Elise but also quietly disappointed that she must put her own wedding to fellow garda Macdara Flannery on hold. Mac will have to join them later, so he can spend part of the holidays with his mam.
When the O'Sullivans learn everyone will choose a name from a hat to buy a music-related Christmas gift for someone else at the gathering, it seems like their greatest concern–until the cantankerous conductor is discovered crushed under a ninety-pound harp in a local concert hall.
With the extended family–including Enda's much-younger new wife Leah, a virtuoso violinist–suspected in his murder, it's up to Siobhán to ensure the guilty party faces the music. But as a snowstorm strands both families in a lavish farmhouse on a cliff, Siobhán had better pick up the tempo–before the killer orchestrates another untimely demise…
*****
Murder in an Irish Pub is the first in the Irish Village series, if you want to start at the beginning.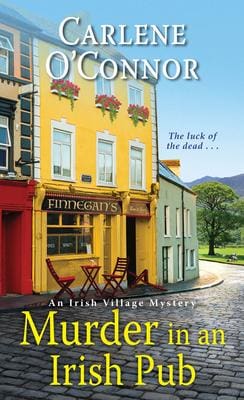 Carlene O'Connor ups the ante in her bestselling Irish Village Mystery series, a perfect cozy for fans of Sheila Connolly, Padraig O'Hannon, and Sara Rosett.

In the small village of Kilbane in County Cork, for a cuppa tea or a slice of brown bread, you go to Naomi's Bistro, managed by the many siblings of the lively O'Sullivan brood. For a pint or a game of darts—or for the poker tournament that's just come to town—it's the pub you want.
 
One player's reputation precedes him: Eamon Foley, a tinker out of Dublin, called the Octopus for playing like he has eight hands under the table. But when Foley is found at the end of a rope, swinging from the rafters of Rory Mack's pub, it's time for the garda to take matters into their own hands. Macdara Flannery would lay odds it's a simple suicide—after all, there's a note and the room was locked. But Siobhán suspects foul play, as does Foley's very pregnant widow. Perhaps one of Foley's fellow finalists just raised the stakes to life and death.
 
With conflicting theories on the crime—not to mention the possibility of a proposal—tensions are running high between Siobhán and Macdara. Soon it's up to Siobhán to call a killer's bluff, but if she doesn't play her cards right, she may be the next one taken out of the game . . .
*****
Did I put you in the mood for Christmas mysteries? Carlene O'Connor is one of the authors included in the collection Christmas Cocoa Murder.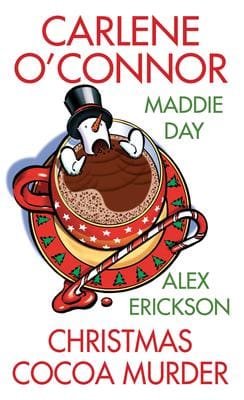 'Tis the season for hot chocolate and mouthwatering treats. But sometimes too much of a good thing can be downright deadly . . .

CHRISTMAS COCOA MURDER by CARLENE O'CONNOR
Siobhán O'Sullivan's hopes for a quiet Irish Christmas are dashed when the local Santa turns up dead in a carnival dunk tank of hot cocoa. Now instead of hunting down holiday gifts, she's pursuing a heartless killer. Seems the dead Santa was no angel either, stealing neighborhood dogs to guide his sleigh. But was it his holiday antics—or worse—that led to his death by chocolate?
 
CHRISTMAS COCOA AND A CORPSE by MADDIE DAY
When local businessman Jed Greenberg is found dead with a Chocolate lab whimpering over his body, the police start sniffing around Robbie Jordan's country restaurant for answers. Was it something in Robbie's hot cocoa that killed Jed, or was it Cocoa the dog? As the suspects pile as high as her holiday tree, Robbie attempts to get to the bottom of the sickly-sweet murder . . .
 
DEATH BY HOT COCOA by Alex Erickson
A Christmas-themed escape game seems like the perfect pre-holiday treat for bookstore café owner Krissy Hancock and her best friend. But when the host is found dead in a pool of hot cocoa, it's up to Krissy and her team to catch the killer—or escape before getting killed.
 
There's nothing like a hot cup of murder to warm up the holiday season!