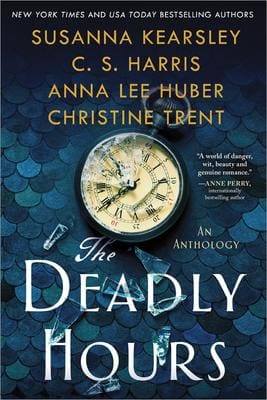 What do you get when four historical mystery novelists write an interconnected anthology? You get The Deadly Hours, four novellas connected by a cursed gold watch that passes through time. The anthology is available through the Web Store.https://bit.ly/32RTG43
Here's the summary of The Deadly Hours.
"Charming… Four interconnected visits to a world of danger, wit, beauty and genuine romance. Treat yourself!"—ANNE PERRY, internationally bestselling author
A stellar line-up of historical mystery novelists weaves the tale of a priceless and cursed gold watch as it passes through time wreaking havoc from one owner to another. As the hours and years pass, the characters are irrevocably linked by fate, each playing a key role in breaking the curse and destroying the watch once and for all.
From 1733 Italy to Edinburgh in 1831 to a series of chilling murders in 1870 London, and a lethal game of revenge decades later, the watch touches lives with misfortune, until it comes into the reach of one young woman who might be able to stop it for good.
As much a book of curses as a book of destinies, The Deadly Hours is a breathtaking anthology rich with atmosphere and intrigue that encapsulates the exquisite destruction, heartbreak, and redemption wrought by fate.This outstanding collaboration of authors includes:Susanna Kearsley – New York Times and USA Today bestselling author of compelling time slip fiction.C.S. Harris – USA Today bestselling author of the Sebastian St. Cyr Regency mystery series.Anna Lee Huber – award-winning author of the national bestselling Lady Darby Mysteries.Christine Trent – author of the Lady of Ashes Victorian mystery series.
More praise for The Deadly Hours:
"A fantastic read."—Tasha Alexander, New York Times bestselling author
"What a treat!"—Victoria Thompson, USA Today bestselling author.
*****
Before we share Barbara Peters' discussion with the authors, let me introduce you to the works by each author. You can order their books through the Web Store as well. https://store.poisonedpen.com/
Susanna Kearsley's most recent standalone is The Winter Sea.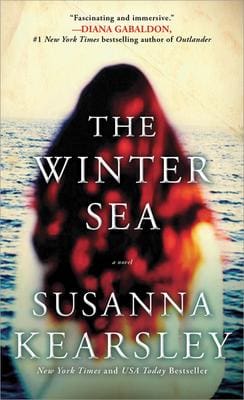 A NEW YORK TIMES AND USA TODAY BESTSELLER!
"I've loved every one of Susanna's books! She has bedrock research and a butterfly's delicate touch with characters—sure recipe for historical fiction that sucks you in and won't let go!"—DIANA GABALDON, #1 New York Times bestselling author of Outlander
A hauntingly beautiful tale of love that transcends time: an American writer travels to Scotland to craft a novel about the Jacobite Rebellion, only to discover her own ancestral memories of that torrid moment in Scottish history…
In the spring of 1708, an invading Jacobite fleet of French and Scottish soldiers nearly succeeded in landing the exiled James Stewart in Scotland to reclaim his crown. When young Sophia Paterson travels to Slains Castle by the sea, she finds herself in the midst of the dangerous intrigue.
Now, Carrie McClelland hopes to turn that story into her next bestselling novel. Settling herself in the shadow of that historic Scottish castle, she starts to write. But when she discovers her novel is more fact than fiction, Carrie wonders if she might be the only living person who knows the truth—the ultimate betrayal—that happened all those years ago.
A sweeping historical fantasy of love, danger, and time travel, Susanna Kearsley masterfully weaves Scotland's past into Carrie's present in this stunning book.
*****
Rather than tell you about C.S. Harris' most recent Sebastian St. Cyr mystery, Who Speaks for the Damned, let me introduce you to the first in the series. What Angels Fear is the first in the series that now has fifteen books.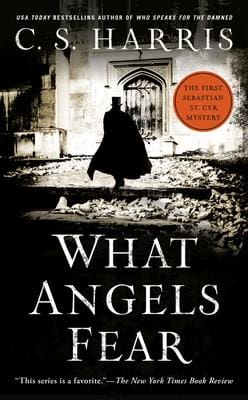 THE FIRST SEBASTIAN ST. CYR MYSTERY!
"The combined elements of historical fiction, romance, and mystery in this fog-enshrouded London puzzler will appeal to fans of Anne Perry."—Booklist
It's 1811, and the threat of revolution haunts the upper classes of King George III's England. Then the body of a beautiful young woman is found savagely murdered on the altar steps of an ancient church near Westminster Abbey. A dueling pistol discovered at the scene and the damning testimony of a witness both point to one man: Sebastian St. Cyr, Viscount Devlin, a brilliant young nobleman shattered by his experiences in the Napoleonic Wars.

Now a fugitive running for his life, Sebastian calls upon his skill as an officer during the war to catch the killer and prove his own innocence. In the process, he accumulates a band of unlikely allies, including the enigmatic beauty Kat Boleyn, who broke Sebastian's heart years ago. In Sebastian's world of intrigue and espionage, nothing is as it seems, yet the truth may hold the key to the future of the British monarchy, as well as to Sebastian's own salvation….
*****
Anna Lee Huber is the author of the Lady Darby mysteries. But, you can pre-order her new Verity Kent mystery, to be released Sept. 29. Check out A Pretty Deceit.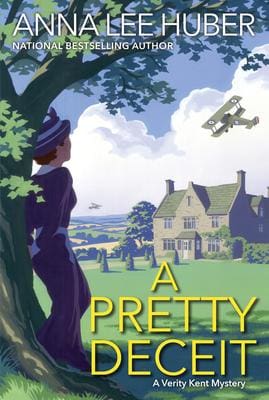 n the aftermath of the Great War, the line between friend and foe may be hard to discern, even for indomitable former Secret Service agent Verity Kent, in award-winning author Anna Lee Huber's thrilling mystery series.
 
Peacetime has brought little respite for Verity Kent. Intrigue still abounds, even within her own family. As a favor to her father, Verity agrees to visit his sister in Wiltshire. Her once prosperous aunt has fallen on difficult times and is considering selling their estate. But there are strange goings-on at the manor, including missing servants, possible heirloom forgeries, and suspicious rumors—all leading to the discovery of a dead body on the grounds.
 
While Verity and her husband, Sidney, investigate this new mystery, they are also on the trail of an old adversary—the shadowy and lethal Lord Ardmore. At every turn, the suspected traitor seems to be one step ahead of them. And even when their dear friend Max, the Earl of Ryde, stumbles upon a code hidden among his late father's effects that may reveal the truth about Ardmore, Verity wonders if they are really the hunters—or the hunted . . .
 
Praise for Anna Lee Huber's Penny for Your Secrets

"Stellar mystery . . . a great read for fans of the series and all who enjoy
Downton Abbey-era fiction."
—Booklist
*****
Christine Trent rounds out the authors who wrote pieces for The Deadly Hours. She sets her story in the world of her series, beginning with Lady of Ashes.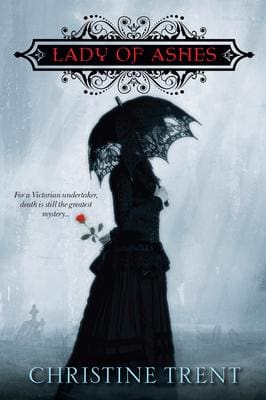 Only a woman with an iron backbone could succeed as an undertaker in Victorian London, but Violet Morgan takes great pride in her trade. While her husband, Graham, is preoccupied with elevating their station in society, Violet is cultivating a sterling reputation for Morgan Undertaking. She is empathetic, well-versed in funeral fashions, and comfortable with death's role in life–until its chilling rattle comes knocking on her own front door.
Violet's peculiar but happy life soon begins to unravel as Graham becomes obsessed with his own demons and all but abandons her as he plans a vengeful scheme. And the solace she's always found in her work evaporates like a departing soul when she suspects that some of the deceased she's dressed have been murdered. When Graham's plotting leads to his disappearance, Violet takes full control of the business and is commissioned for an undertaking of royal proportions. But she's certain there's a killer lurking in the London fog, and the next funeral may be her own.
Equal parts courage, compassion, and intrigue, Christine Trent tells an unrestrained tale of love and loss in the rigidly decorous world of Victorian society.
Praise for the novels of Christine Trent
"Genuinely engrossing. . .with a rare Regency heroine who loves her work and does it well." Publishers Weekly on By the King's Design
"Exuberant, sparkling, beguiling. . .brims with Dickensian gusto!" –Barbara Kyle, author of The Queen's Lady on The Queen's Dollmaker
"Winningly original. . .glittering with atmospheric detail!" –Leslie Carroll, author of Royal Affairs on The Queen's Dollmaker
*****
Now, enjoy the conversation as the authors talk about their anthology.