It's not often that readers get to listen to authors talk with their editors. Barbara Peters, owner of The Poisoned Pen, recently hosted Stan Parish, author of Love and Theft, and his legendary editor, Jason Kaufman. Kaufman, executive editor at Doubleday, edited Dan Brown, Lincoln Child, Jeffrey Archer and Clive Cussler, among others.
Signed copies of Love and Theft are available through the Web Store. Snatch it up because it's one of September's picks of the month at the Pen. https://bit.ly/2QUiIKx
Here's the summary of Love and Theft.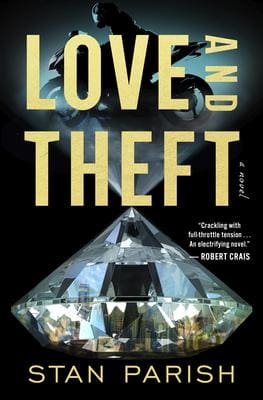 "A breathless adventure both starry-eyed and cool-blooded, both charming and diabolical." –A.J. FINN, #1 New York Times bestselling author of The Woman in the Window
"Crackling with full-throttle tension . . . An electrifying novel." –ROBERT CRAIS, author of the bestselling Elvis Cole novels

An epic Vegas heist.
A high-octane international romance.
A charismatic thief forced to orchestrate one final, treacherous job to save his family.
When Alex Cassidy and Diane Alison meet at a party in Princeton, New Jersey, the chemistry between them is instant and undeniable. She's a single mother, local fixture, and owner of a successful catering company. He's a single father and weekend homeowner — and leader of an armed-robbery crew that just pulled off a record-breaking, precision jewel heist in Las Vegas. Neither one realizes that their lives have overlapped before, and that the shared history they uncover will threaten everyone they love.
Swept up in their burgeoning relationship, Diane joins Alex at his beach house in Tulum, where Alex decides to leave his life of crime behind. It begins as a postcard-perfect weekend until an entanglement with a powerful cartel forces Alex to mastermind one final and unthinkably dangerous job. What ensues is an explosive, adrenaline-soaked journey through the moneyed landscapes of Mexico and Europe, where ghosts from the past collide with unexpected perils in the present. As Alex and Diane fight for their lives, they discover that they're not the only ones with secrets–and that those closest to us pose the greatest danger of all.
Propulsive, deeply suspenseful, and layered with mesmerizing twists, Love and Theft is a sophisticated thriller about the illusion of control and the high price of past transgressions.
*****
Enjoy the conversation.