There can't be a conversation with David Rosenfelt without talking about dogs and dog rescues. Barbara Peters, owner of The Poisoned Pen, kicks off the recent conversation about Rosenfelt's latest Andy Carpenter mystery, Muzzled, by talking about dogs. And, you'll be interested to know Rosenfelt's books start with the dog, not the case itself. You can order a signed copy of Muzzled, or copies of Rosenfelt's other books, through the Web Store. https://bit.ly/2ZmRgd8
Here's the summary of Muzzled.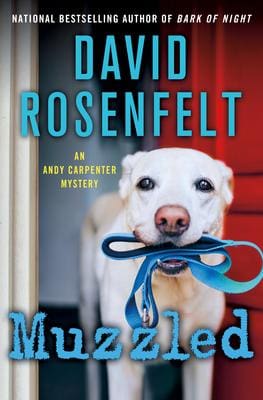 In David Rosenfelt's Andy Carpenter mystery, Muzzled, Andy and his beloved golden retriever, Tara, are back on the case as a favor to a friend.
Andy Carpenter is a lawyer who would rather not practice law. He'd rather spend his time working with the Tara Foundation, his dog rescue organization, and being with his family and his two dogs, Tara and Sebastian. But when a friend asks him for a favor that involves both dogs and his lawyerly expertise, he can't say no.
Andy's friend Beth has found a stray that seems to have belonged to a murder victim–in fact, the man and two of his colleagues died in an explosion a few weeks ago. But when the murdered man contacts Beth, asking for his dog back, Andy knows there must be more to the story. The man claims his life is in danger, and that's why he disappeared. As much as Andy doesn't want to get involved–anything to avoid a new case–he can't help but come to the rescue of a man who'd risk everything, even his life, to reunite with his dog.
Once again, David Rosenfelt delivers suspense and laughter in equal measure in another engaging mystery from "one of the most unforgettable voices in the genre." (Associated Press)
*****
You can enjoy the conversation here.