I've been waiting to share this conversation. Barbara Peters, owner of The Poisoned Pen, recently hosted Linda Castillo for the virtual book launch of Outsider, the new Kate Burkholder thriller. Outsider is the Hot Book of the Week at the Pen. You can still order signed copies of it through the Web Store. https://bit.ly/2TDPi4M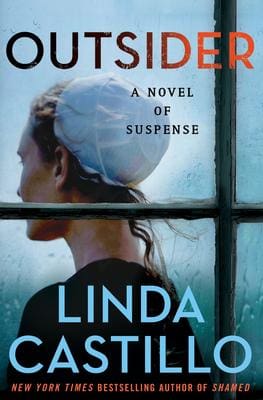 Here's the summary of the latest book in the series.
Linda Castillo follows her instant New York Times bestseller, Shamed, with Outsider, an electrifying thriller about a woman on the run hiding among the Amish.

While enjoying a sleigh ride with his children, Amish widower Adam Lengacher discovers a car stuck in a snowdrift and an unconscious woman inside. He calls upon Chief of Police Kate Burkholder for help, and she is surprised to recognize the driver: fellow cop and her former friend, Gina Colorosa.
Years before, Kate and Gina were best friends at the police academy and patrol officers in Columbus, but time and distance have taken them down two very different paths. Now, Gina reveals a shocking story of betrayal and revenge that has forced her to run for her life. She's desperate for protection, and the only person she can trust is Kate—but can Kate trust her? Or will Gina's dark past put them all in danger?
As a blizzard bears down on Painters Mill, Kate helps Gina go into hiding on Adam's farm. While the tough-skinned Gina struggles to adjust to the Amish lifestyle, Kate and state agent John Tomasetti delve into the incident that caused Gina to flee. But as Kate gets closer to the truth, a killer lies in wait. When violence strikes, she must confront a devastating truth that changes everything she thought she knew not only about friendship, but the institution to which she's devoted her life.
*****
If you're a fan of this series, or just discovering the Kate Burkholder books, you'll want to watch the conversation.