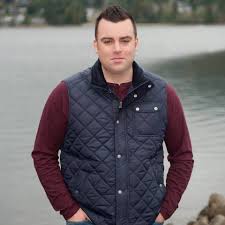 In 2018, Cobra Clutch, A.J. Devlin's debut mystery, was released. It went on to win the Canadian award, the Arthur Ellis Award for Best First Novel. Since the second "Hammerhead" Jed Ounstead mystery, Rolling Thunder, is released May 15, I thought I'd introduce you to the author, by asking A.J. to sit "In the Hot Seat". You can order Devlin's books through the Web Store. https://bit.ly/2yBPfiZ Thank you, A.J.
A.J., would you introduce yourself to readers?
My name is A.J. Devlin and I am a Canadian crime writer living in Vancouver, which is the city I write about. In my twenties I moved to Southern California for six years where I earned my B.F.A. in Screenwriting from Chapman University and my M.F.A. in Screenwriting from the American Film Institute. After moving back to Vancouver I left screenwriting behind in order to pursue a career as an author before finding a home with my amazing Canadian publisher NeWest Press. When not writing I keep very busy as a married stay-at-home dad raising two children.
Would you introduce us to "Hammerhead" Jed Ounstead?
"Hammerhead" Jed Ounstead is an ex-professional wrestler turned detective working in Vancouver. In Cobra Clutch, he is reluctantly drawn back into the world of independent professional wrestling when someone kidnaps his former tag-team partner's precious pet python and his old friend "" who Jed owes "" asks him for his help. Jed's a strapping and muscular guy, stubborn and hard-headed (pun intended), but he also has a big heart and a strong moral compass. Jed is often aided on his investigations by his cousin Declan St. James, a former IRA operative turned bartender at his family's Irish pub, as well as his father, a retired Vancouver Police Department legend who now runs a private investigation business. Jed earned the nickname "Hammerhead" back in his wrestling days due to his penchant for breaking a 2×4 piece of Western red cedar over his head in the wrestling ring after winning a match.
Tell us about Rolling Thunder without spoilers, please.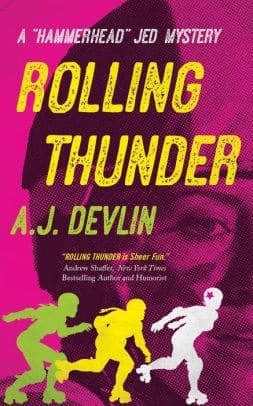 Rolling Thunder is the sequel to Cobra Clutch and picks up about nine months after the events of the first book. Jed is now working as a licensed private investigator on a provisional basis under his father's supervision. A former lady wrestler named Stormy Daze, who Jed encountered during his investigation in the first book, has since left the squared circle behind and joined a women's flat-track roller derby team. With playoffs around the corner, their roller derby coach goes missing. After filing a missing person's report with the Police, the team decides to take it a step further and pool their money in order to hire a private investigator. Stormy tells her teammates that she knows just the guy.
OK, I'll admit I'm a fan of Declan's. Would you introduce us to him as well?
Declan is more than just a former IRA badass and bartender. He's also a livewire and a bit of a hothead. He says what he wants, does what he wants, whenever he damn well feels like it. Declan is pure id. He's also a major source of comic relief in the "Hammerhead" Jed series and often has some peculiar and quirky tastes which come up as he tags along from time to time on Jed's investigations. But he's deadly in a fight, loves his cousin dearly, and always has his back.
Why the worlds of pro wrestling and roller derby?
I have long been a fan of the athlete / detective subgenre in crime fiction. As a result, I have read dozens of mysteries about boxer-detectives, surfer-detectives, hockey player-detectives, sports agent-detectives, etc. "" but as far as I could tell no one had ever written about a pro wrestler-detective "" so I saw an opportunity. It also didn't hurt that growing up I was a huge pro wrestling fan, and that later in my college years I became fascinated with documentaries and biographies detailing the dark side of sports entertainment. That dichotomy "" the over-the-top in-ring antics and the tragic fates that often befell the pro wrestlers outside the ring "" seemed like an exciting and unique sandbox in which to set a mystery-comedy series.
With regards to why I chose the world of women's flat-track roller derby as the setting for Rolling Thunder, well, that pretty much wrote itself. The idea for the series was always for Jed to continually find himself pulled into fringe sports or unique subcultures while working his cases. It's safe to say that I'm drawn to the quirky and offbeat, and I think the narrative possibilities of a former professional wrestler having to navigate his way through foreign terrain while working as a private investigator are endless. As far as women's flat-track roller derby goes, it is one hell of a fun, badass, estrogen-charged, counter-culture sport, which was something I really wanted to showcase. Also, having a character who Jed had encountered in Cobra Clutch reach out to him for help after having transitioned from pro wrestling to roller derby seemed both believable and a fun way to kick off another adventure.
Can you give us a clue what Jed will be involved with in the next book?
I can indeed! This is a bit of an exclusive as I haven't shared this with many people yet, but in book three of the "Hammerhead" Jed series our hardheaded detective will find himself getting caught up in the bloody and bone-crunching world of mixed martial arts after he is hired by a former ufc fighter and dojo owner to find a stolen championship belt. With his wrestling background, Jed is used to always being the biggest, toughest guy in the room, so I wanted to explore what it would be like for him to go up against guys that are such dangerous fighters that Jed's usual physical advantage is negated.
Cobra Clutch, the book that introduced Jed, won the Arthur Ellis Award for Best First Novel. Do you remember what you were doing when you learned you were nominated for an award for your debut?
All across the country Crime Writers Of Canada puts on multiple Arthur Ellis Award nomination events, where there is a panel of Canadian crime writers discussing a different theme or topic followed by the panelists opening the envelopes and revealing the nominees. I wasn't on the panel that night but attended the event, so I was in the audience when they read out the nominees for Best First Novel, and, needless to say, hearing Cobra Clutch being announced was an absolute thrill.
Let's talk about one of my favorite places, Ireland. What do you enjoy seeing/doing when you visit?
Oh man, where to start?!? I've only been able to visit Ireland once but I went for about a week and it was incredible. Of course, Dublin is a total blast and always a fun stop. My wife and I rented a car and drove cross country to Galway staying in bed and breakfasts along the way, which is one of the best ways to see the countryside. After Galway we headed north to Donegal and spent a night at the gorgeous and historic Loughe Eske Castle. We then drove to the (almost) one street town of Derrygonnelly where my grandmother was born so that was an amazing place for me to visit. After that we drove to Ballymena, where I still have relatives on my father's side, before ending our trip with a couple of nights in Belfast.
I have plans for a Declan-centric novel in the "Hammerhead" Jed series which will see the boys head home to the motherland and the mystery be related to Declan's IRA past, however, it's still a couple of books away and will definitely require me to visit Ireland again for research (and more fun!).
You worked as a screenwriter in Hollywood. Any stories you can tell about that experience? If you can't tell any stories, why did you move back to British Columbia?
After graduating with my M.F.A. in Screenwriting from the American Film Institute I was able to extend my student visa for a year and work in the industry in which I had studied. During this time I worked for an Academy Award nominated producer, was hired to write treatments, do rewrites, pitch directors, etc. I also co-wrote several screenplays with my late professor and mentor Leonard Schrader, but despite all the projects I had on the go I wasn't able to get any into development, which was frustrating. I decided to move home and try to break into the Canadian film and television industry, but to no avail. Eventually, I was so burned out I decided to put screenwriting on the back burner and finally heed my professor's advice and take a crack at writing a mystery novel. Several years and multiple drafts later Cobra Clutch was the result and I haven't looked back since.
Happy reading everyone!
*****
Here is the summary of Rolling Thunder as it appears in the Web Store.
Former pro wrestler "Hammerhead" Jed Ounstead, now a fully-fledged private investigator, is riding high after his first successful case. In this second episode, Jed leaves the wrestling realm to enter a new arena: women's flat-track roller derby. When old acquaintance Stormy Daze seeks his help finding her team's missing coach, Jed discovers that the turnbuckle-and-metal-chair mayhem of the wrestling ring pales in comparison to roller derby's four-wheeled ferocity.
As his search intensifies, Jed is drawn into the criminal orbit of a shady entrepreneur who doubles as a late-night TV personality, a high-class bookmaker with a yen for racing dachshunds, and a kinky painter with a special technique for producing art. When the thunder rolls, Jed finds he needs more than a few of his beloved banana milkshakes to solve this case.
Rolling Thunder continues A.J. Devlin's hard-hitting, award-winning mystery series with its unbeatable one-two punch of over-the-top-rope humour and elbow-to-the-face adventure.