The tenth book in Jeffrey Siger's Chief Inspector Andreas Kaldis series, The Mykonos Mob, was released a year ago. It has just been rereleased in paperback under the title Island of Secrets. Both copies, and other books in the series, are available through the Web Store. https://bit.ly/2jC3gpp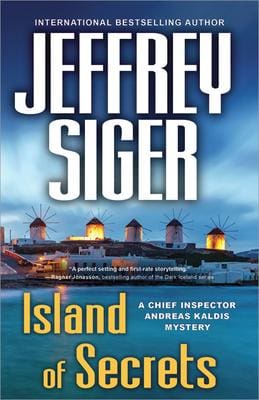 For an article in Bookreporter.com, Jeffrey Siger looks back at an earlier book in the series. Mykonos After Midnight was a warning about the future. Now, in this article, Siger talks about the island, and the consequences of activities there. He has accurately forecast the future before. You might want to read his recent article, https://bit.ly/34LQxmZ.
And, of course, if you haven't already read The Mykonos Mob, pick up Island of Secrets. Here's the summary.
"A perfect setting and first-rate storytelling." —Ragnar Jónasson, bestselling author of The Dark Iceland series
From international bestselling author, Jeffrey Siger, comes another heart-stopping story of corruption and intrigue.
The case begins for Athens' Chief Inspector Andreas Kaldis with a literal bang when a corrupt former police colonel who runs a protection racket on Mykonos is gunned down. Suddenly, Kaldis is face-to-face with Greece's top crime bosses on an island whose natural beauty and reputation as an international playground belies the corruption lurking just beneath the surface.
While Kaldis and his Special Crimes unit wrestle for answers, his wife, Lila, meets an American expat named Toni, a finder of stolen goods and a piano player in a gender-bending bar who has a zest for life and no apparent regard for rules. As Lila and Toni bond over a common desire to mentor young island girls trapped in an exploitative and patriarchal culture, they soon find that their efforts intersect with Kaldis' investigation in ways that prove to be dangerous for all involved…
(Previously published as The Mykonos Mob)