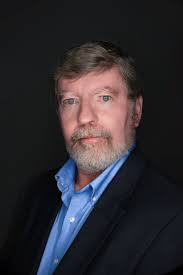 Thomas Kies, author of the Geneva Chase mysteries, is a little luckier than many of us. He admits it in his "Distractions" post when he talks about his location for quarantine or "social distancing". I think you'll enjoy his post. His latest book, Graveyard Bay, and the others in the series, can be found in the Web Store. https://bit.ly/2VH6SoP
Author of the Geneva Chase Mystery Series, Thomas Kies lives and writes on a barrier island on the coast of North Carolina with his wife, Cindy, and Lilly, their shih-tzu. He has had a long career working for newspapers and magazines, primarily in New England and New York, and is currently working on his next novel. (Or, with what's going on, and so many authors saying they're having a hard time writing, let's hope he's working on his next novel.)
Thank you, Tom. Readers can find Thomas Kies' "Distraction" books through the Web Store. https://store.poisonedpen.com/
Distractions
If I have to live in exile during these trying times, I'm extremely lucky to be able to do so on a barrier island on the coast of North Carolina. The beach is only a short walk from our home, my office overlooks our front lawn, and the weather this time of year is perfect.
Nonetheless, I find the news Covid-19 to be overwhelming and I'm having a difficult time concentration on my own writing.   So reading some books I've picked up over the last year while at various mystery conferences is proving to be a pleasant distraction.
First up was HEAD WOUNDS by Dennis Palumbo whom I met for the first time at Thrillerfest last summer.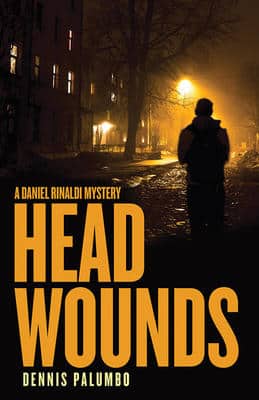 The book begins with "Miles Davis saved my life."  You have to love that for a first line.  Like Mr. Palumbo, his protagonist Daniel Rinaldi is a psychologist but Rinaldi, unlike Mr. Palumbo, has an uneasy relationship with the police force.  In HEAD WOUNDS, Rinaldi is bieing hunted by a madman who is systematically targeting all the people who are close him.  The book is a nail-biter from beginning to end. 
While in Dallas for Bouchercon, I picked up BELOW THE FOLD by R.G. Belsky.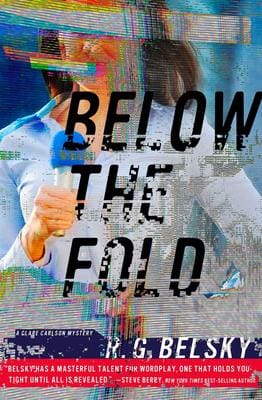 Like my own protagonist, Geneva Chase, Mr. Belsky has created Clare Carlson, a female journalist.  Except Clare has left the shrinking newspaper business and is now producing news for television.  In BELOW THE FOLD, a homeless woman is found murdered. Traditionally barely a blip in a news cycle, Clare digs more deeply and finds a connection to a group of wealthy people, some of whom are murdered and some become suspects.  I kept wondering how in hell Mr. Belsky was going to tie that up.  I'm happy to say that he did a great job.
I've had the pleasure of running into Stephen Mack Jones a couple of time now and I can vouch that he's a great guy and a fantastic writer. .  The latest was at the Virginia Festival of the Book where I scored a copy of LIVES LAID AWAY.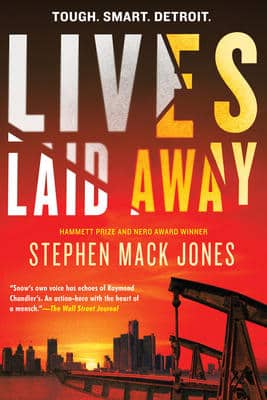 A non-stop mystery thriller that starts off with a dead girl dressed like Marie Antoinette found thrown off the Ambassador Bridge.  Former cop, August Snow, traverses the underbelly of Detroit in a gun-blazing plot that includes immigration and human trafficking.  It was a definite page-turner.
Lastly, I finally had a chance to read Joseph Finder's mystery JUDGEMENT.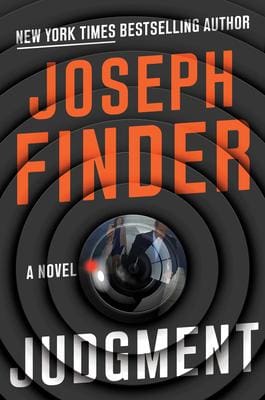 The main character is a by-the-book judge, Juliana Brody, who makes a serious mistake in the very first chapter, a one night stand.  Juliana is a mother and wife and it's the first time she's ever strayed.  With a jolt, she realizes the trouble she's in when the man that she had an affair with, a man that she didn't think she'd ever see again, shows up in her courtroom.  The plot takes her from the fear of losing her husband, to seeing her family put in mortal danger.   It made me wonder what rules I'd break to save my family.
Now, I'm halfway through Annie Hogsett's latest mystery THE DEVIL'S OWN GAME and enjoying it very much.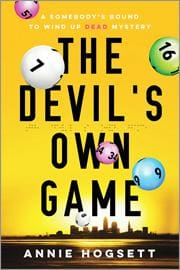 It's nice to be around her characters, Tom, Allie and Otis.  The book starts right out the gate with a crackerjack murder and brings back a very nasty criminal mastermind, Tito Ricci.  It's also a page-turner that I fear I will finish much too quickly.  
Stay safe and healthy everyone!
*****
You stay safe and healthy as well, Tom. And, thank you.
Thomas Kies' latest book is Graveyard Bay. Here's the summary of the book. Don't forget. You can find his books, and all the books he discussed, in the Web Store. https://store.poisonedpen.com/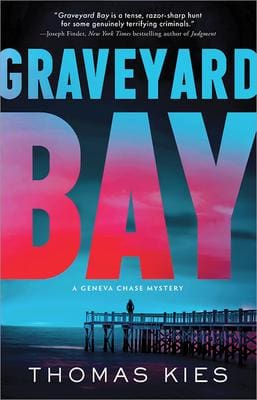 Time is running out…
The nude bodies of a corrupt judge and a Jane Doe are found under the icy, black waters at Groward Bay Marina, chained to the prongs of a mammoth fork lift. A videotape points to Merlin Finn, a ruthless gang leader with a proclivity for bondage and S&M who had recently broken out of prison. In the videotape, he's wearing a black leather bondage mask.
With the newspaper she works for about to be sold and her job in jeopardy, journalist Geneva Chase investigates pill mills, crooked doctors, and a massive money laundering scheme in an attempt to identify the murdered woman and find the killer. Along the way, she finds herself working with a disgraced New York cop and a host of other unlikely characters with ties to the criminal underworld.
Geneva is clearly hot on the killer's trail, but when she is kidnapped and held at the mercy of the criminals she hoped to stop, it looks like her chance to uncover the darkness that has seeped through her hometown may be lost forever.