Julia Spencer-Fleming's last book in her Clare Fergusson/Russ Van Alstyne series, Through the Evil Days, was published in November 2013. She's finally back with her new book, Hid from Our Eyes. You'll be able to watch the virtual event to hear Spencer-Fleming's account of that gap. You can also order copies of her books, and signed copies of several of them through the Web Store. https://bit.ly/2KgausM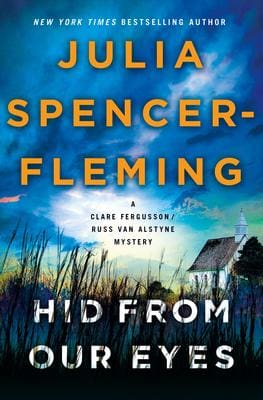 Here's the summary of the latest book, Hid from Our Eyes.
THE USA TODAY BESTSELLER
New York Times bestseller Julia Spencer-Fleming returns to her beloved Clare Fergusson/Russ Van Alstyne mystery series with new crimes that span decades in Hid from Our Eyes.
"New parents Clare Fergusson and police chief Russ Van Alstyne tackle three copycat murders and one testy baby in this riveting addition to an acclaimed series" —People magazine
1952. Millers Kill Police Chief Harry McNeil is called to a crime scene where a woman in a party dress has been murdered with no obvious cause of death.
1972. Millers Kill Police Chief Jack Liddle is called to a murder scene of a woman that's very similar to one he worked as a trooper in the 50s. The only difference is this time, they have a suspect. Young Vietnam War veteran Russ van Alstyne found the body while riding his motorcycle and is quickly pegged as the prime focus of the investigation.
Present-day. Millers Kill Police Chief Russ van Alstyne gets a 911 call that a young woman has been found dead in a party dress, the same MO as the crime he was accused of in the 70s. The pressure is on for Russ to solve the murder before he's removed from the case.
Russ will enlist the help of his police squad and Reverend Clare Fergusson, who is already juggling the tasks of being a new mother to her and Russ's baby and running St. Alban's Church, to finally solve these crimes.
Readers have waited years for this newest book and Julia Spencer-Fleming delivers with the exquisite skill and craftsmanship that have made her such a success.
*****
I think you'll enjoy the virtual event. Jenn McKinlay, one of the authors who blogs with Spencer-Fleming at Jungle Red Writers, joins bookstore owner Barbara Peters to talk with Julia Spencer-Fleming.