Today, we'll reverse the order. Usually, there's a note about the books, and the video from The Poisoned Pen ends the blog piece. Because there are three authors who write crime novels, the video will introduce them and their books. However, once you hear about the books, you'll want to check out the Web Store. https://store.poisonedpen.com
But, even before that, just a note. Barbara Peters, owner of The Poisoned Pen, had this very important highlight in her recent newsletter. You can support the bookstore and the authors, and benefit yourself by taking advantage of this offer.
"We always need good books however we define them to be, and right now more than ever.
STARTING MONDAY THROUGH APRIL 15: FREE SHIPPING ON ORDERS OF $25 and up within the United States. We will reassess at that time.
PLEASE RECOGNIZE THAT:There will almost certainly be delays in stocking books thanks in part to the ongoing paper shortage slowing printers. It's possible that warehouses will experience staffing shortages or shut down and who knows how the overstrained shipping system will fare."
*****
So, check out the video, and then check out some books. The video features three authors, Don Bentley, John McMahon and Russ Thomas. They write thrillers or police procedurals.
Here's Don Bentley's Without Sanction.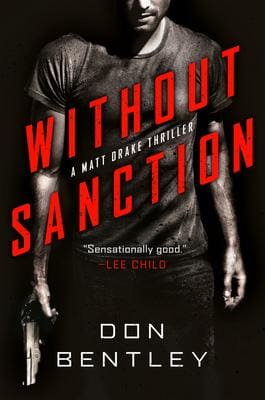 After surviving a clandestine operation that went tragically wrong, Matt Drake escaped Syria with his life, but little else. Now, to save the life of another, he must return to Syria and confront his biggest failure in a debut thriller Lee Child calls "sensationally good."
Defense Intelligence Agency operative Matt Drake broke a promise. A promise that cost three people their lives and crippled his best friend. Three months later, he's paralyzed by survivor's guilt and haunted by the memories of the fallen. Matt may have left Syria, but Syria hasn't left him.
In the midst of his self-imposed exile, Matt is dragged back into the world of espionage and assets that he tried to forget. A Pakistani scientist working for an ISIS splinter cell has created a terrifying weapon of mass destruction. The scientist offers to defect with the weapon, but he trusts just one man to bring him out of Syria alive—Matt Drake.
*****
Or, check out John McMahon's The Evil Men Do.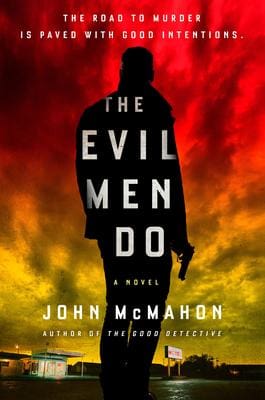 "[McMahon] tells his story with flair."–New York Times Book Review

The author of The Good Detective delivers a gripping and atmospheric new novel in which a cop takes on a harrowing case and confronts old personal demons.

What if the one good thing you did in your life doomed you to die?
A hard-nosed real estate baron is dead, and detectives P.T. Marsh and Remy Morgan learn there's a long list of suspects. Mason Falls, Georgia, may be a small town, but Ennis Fultz had filled it with professional rivals, angry neighbors, and a wronged ex-wife. And when Marsh realizes that this potential murder might be the least of his troubles, he begins to see what happens when ordinary people become capable of evil.
As Marsh and Morgan dig into the case, it becomes clear that Fultz's death was not an isolated case of revenge. It may be part of a dark web of crimes connected to an accident that up-ended Marsh's life a couple years earlier–and that now threatens the life of a young child. Marsh veers dangerously off track as his search for clues becomes personal..and brings him to a place where a man's good deeds turn out to be more dangerous than his worst crimes.
*****
Here's Russ Thomas' debut police procedural, Firewatching.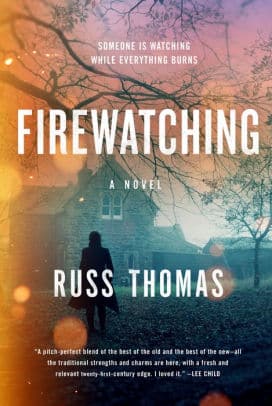 "A pitch-perfect blend of the best of the old and the best of the new–all the traditional strengths and charms are here, with a fresh and relevant twenty first-century edge. I loved it."–Lee Child

A taut and ambitious police procedural debut introducing Detective Sergeant Adam Tyler, a cold case reviewer who lands a high-profile murder investigation, only to find the main suspect is his recent one-night stand . . .
When financier Gerald Cartwright disappeared from his home six years ago, it was assumed he'd gone on the run from his creditors. But then a skeleton is found bricked up in the cellar of Cartwright's burned-out mansion, and it becomes clear Gerald never left alive.
As the sole representative of South Yorkshire's Cold Case Review Unit, Detective Sergeant Adam Tyler is not expected to get results, but he knows this is the case that might finally kick start his floundering career. Luckily, he already has a suspect. Unluckily, that suspect is Cartwright's son, the man Tyler slept with the night before.
Keeping his possible conflict-of-interest under wraps, Tyler digs into the case alongside Amina Rabbani, an ambitious young Muslim constable and a fellow outsider seeking to prove herself on the force. Soon their investigation will come up against close-lipped townsfolk, an elderly woman with dementia who's receiving mysterious threats referencing a past she can't remember, and an escalating series of conflagrations set by a troubled soul intent on watching the world burn . . .
*****
Remember, beginning Monday, your order needs to be $25 and up, and there's free shipping within the United States until April 15. You can order books now, or put them on a list to order in a couple days. Again, here's the link to the Web Store. https://store.poisonedpen.com