If you're fascinated by Victorian history, you'll appreciate the conversation between Deanna Raybourn, author of A Murderous Relation, and Barbara Peters, owner of The Poisoned Pen. Raybourn is so knowledgeable about the Victorian era. There's definitely some light moments during this conversation. You'll want to watch this event.
I hope Deanna Raybourn caught your attention. If you would like to buy a signed copy of A Murderous Relation, the latest Veronica Speedwell adventure, check the Web Store for that book, and earlier ones. https://bit.ly/2BlRbLF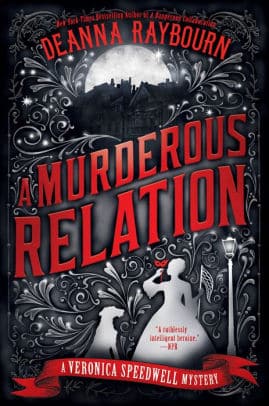 A royal scandal's connection to a brutal serial killer threatens London in this new Veronica Speedwell adventure from New York Times bestselling and Edgar® Award""nominated author Deanna Raybourn.
Autumn 1888. Veronica Speedwell and her colleague Stoker are asked by Lady Wellingtonia Beauclerk to stop a potential scandal so explosive it threatens to rock the monarchy. Prince Albert Victor is a regular visitor to the most exclusive private club in London, and the proprietress, Madame Aurore, has received an expensive gift that can be traced back to the prince. Lady Wellie would like Veronica and Stoker to retrieve it from the club before scandal can break.
Worse yet, London is being terrorized by what would become the most notorious and elusive serial killer in history, Jack the Ripper—and Lady Wellie suspects the prince may be responsible.
Veronica and Stoker reluctantly agree to go undercover at Madame Aurore's high-class brothel, where a body soon turns up. Secrets are swirling around Veronica and the royal family—and it is up to Veronica and Stoker to find the truth, before it is too late for all of them.