Jason Pinter, author of Hide Away, recently appeared at The Poisoned Pen, along with Phillip Margolin (A Reasonable Doubt), and moderator Matt Goldman. Goldman asked both authors about their strong female characters. You're going to be able to watch the event, and hear the answers, but first let's talk about Pinter's Hide Away. It's the first in the author/publisher's new series, and it's the current Hot Book of the Week. You can order signed copies of the books through the Web Store. https://store.poisonedpen.com/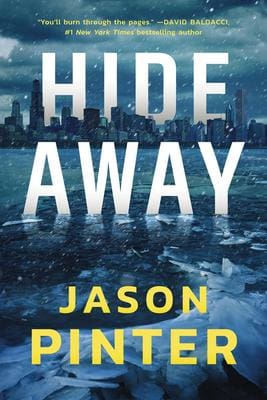 Here's the description of the first Rachel Marin novel, Hide Away.
"Pinter is in fine form with Hide Away. You'll burn through the pages." —David Baldacci
From the bestselling author of the Henry Parker series comes a page-turning thriller about a vigilante who's desperate to protect her secrets—and bring a killer to justice.
On the surface, Rachel Marin is an ordinary single mother; on the inside, she's a fierce, brilliant vigilante. After an unspeakable crime shatters her life, she changes her identity and moves to a small town in Illinois, hoping to spare her children from further trauma…or worse. But crime follows her everywhere.
When the former mayor winds up dead, Rachel can't help but get involved. Where local detectives see suicide, she sees murder. They resent her for butting in—especially since she's always one step ahead. But her investigative genius may be her undoing: the deeper she digs, the harder it is to keep her own secrets buried.
Her persistence makes her the target of both the cops and a killer. Meanwhile, the terrifying truth about her past threatens to come to light, and Rachel learns the hard way that she can't trust anyone. Surrounded by danger, she must keep her steely resolve, protect her family, and stay one step ahead, or else she may become the next victim.
*****
Missed the event? You can watch Jason Pinter, Phillip Margolin and Matt Goldman in conversation.