Not only does Betty Webb's new book, The Panda of Death, have one of the cutest covers you'll ever want to see, she's put some interesting family connections in the latest Gunn Zoo mystery. You'll be able to hear Betty tell about Poonya, the red panda, and the DNA connection. You can find the Gunn Zoo mysteries, including The Panda of Death, through the Web Store. https://bit.ly/2uhnpCs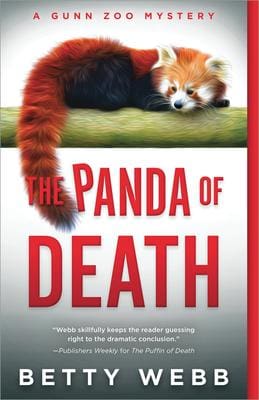 Here's the summary of The Panda of Death.
California zookeeper Theodora Bentley is now happily married to Sheriff Joe Rejas. The Gunn Zoo is celebrating the arrival of Poonya, an adorable red panda, who forms a strong bond with Teddy. All appears fairytale blissful in the small Monterey Bay village of Gunn Landing until Teddy's mother-in-law, mystery writer Colleen Rejas, has discovered through DNA testing that Joe has sired a son he knew nothing about. Dylan Coyle, 18, arrives to meet his biological family… and then is arrested for murder.
By the end of the book, besides solving the crime, Teddy and Colleen have learned that the term "family" does not always mean blood kin. It often includes those who—although no blood relationship—are still held close in our hearts.
*****
Join in, and watch the discussion with Betty Webb and Barbara Peters, owner of The Poisoned Pen.