Do we all agree it's time to focus on something a little lighter than world news today? How about a new series from David Rosenfelt, author of the Andy Carpenter books? The K Team is a spinoff, due out March 24. You can reserve your signed copies right now through the Web Store. Don't forget, you can also order an audiobook through The Poisoned Pen. Information is on the same page. https://bit.ly/3cXu4XL
Here's David Rosenfelt's The K Team.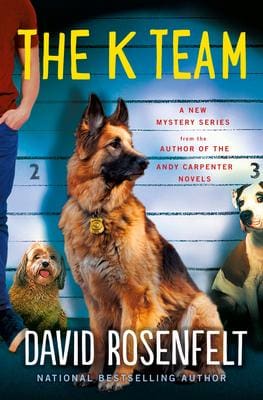 From bestselling mystery author David Rosenfelt comes a new series "" a spinoff of the much beloved Andy Carpenter mysteries "" about a dynamic new investigative team featuring a determined former cop and his loyal German Shepherd.
Corey Douglas and his K-9 partner, Simon Garfunkel, have recently retired from the police force. Not ready to give up the life yet, they come up with a proposal for fellow former cop, Laurie Carpenter, and her investigating partner, Marcus. Laurie and Marcus "" who help out Laurie's lawyer husband Andy on cases "" have been chafing to jump back into investigating on their own, so they are in.
They call themselves the K Team, in honor of Simon. Their first job as private investigators comes to them from Judge Henry Henderson, who's known as a very tough but fair judge, and they've all come up against him in court at one time or another. Though it's hard to believe, Judge Henderson is being blackmailed and extorted, and he doesn't want to involve the police–he needs the K Team to figure out why.
*****
Sounds good, especially if you're a dog-lover, doesn't it? Here's something else that's always fun, Adam Wagner's GifNotes from CriminalElement. Here's the link to The K Team by David Rosenfelt: A Visual Guide. https://bit.ly/2TPBPaz