One Day You'll Burn is Joseph Schneider's debut from Sourcebooks/Poisoned Pen Press. Doreen Sheridan just gave the police procedural a glowing review at CriminalElement.com. You can read her review here. https://bit.ly/2OBBHc0 Then, you might want to get in while you can still order the first in a new series. You can order a copy through the Web Store. https://bit.ly/2H7ziS6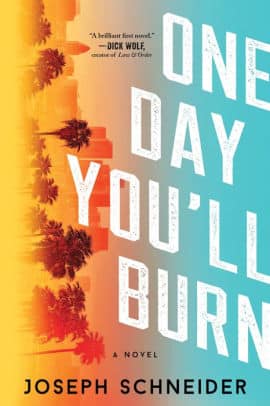 Here's the summary of Schneider's debut, One Day You'll Burn.
"A brilliant first novel. Joseph Schneider's contemporary writing evokes some of Hollywood's most classic crime stories, from Chinatown to LA Confidential." —Dick Wolf, creator of Law & Order
Detective Tully Jarsdel may not be a typical LAPD cop—but he's the only one who can solve this case
A body so badly burned that it could be mistaken for a movie prop… except for the smell. That's not something the LAPD finds lying on the street every day. And when Detective Tully Jarsdel is called to the scene, it's clear to him that something about the placement of the corpse is intentional, even ritualistic. Jarsdel's former career in academia seems to finally be coming in handy, rather than serving merely as material for jokes from his partner, Morales.
But nothing Jarsdel learned in school can prepare him for the deep evil behind this case, which appears to be as hopeless as it is violent. As Jarsdel and Morales attempt to settle their differences and uncover the motive behind the horrendous crime, they find themselves dragged into the underbelly of a city notorious for chewing up and spitting out anyone dumb enough to turn their back on survival.
One Day You'll Burn is a shimmering debut that captures the glitz and squalor of LA while introducing an unforgettable detective readers will rank among the best in the genre.