Jonathan Kellerman's latest Alex Delaware novel, The Museum of Desire, was the focus of a recent article at https://booktrib.com/. K.L. Romo's article is called, "A Tableau of Artful Murders in 'The Museum of Desire'". You can read the article here, https://bit.ly/2UBwULg, where Romo discusses the two main characters, Alex Delaware and LAPD Detective Milo Sturgis.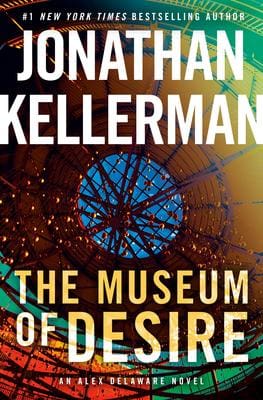 You can reserve a signed copy of The Museum of Desire through the Web Store. https://bit.ly/31AlZTy
And, you can read about the book as well.
Psychologist Alex Delaware and detective Milo Sturgis struggle to make sense of a seemingly inexplicable massacre in this electrifying psychological thriller from the #1 New York Times bestselling master of suspense.

LAPD Lieutenant Milo Sturgis has solved a lot of murder cases. On many of them—the ones he calls "different"—he taps the brain of brilliant psychologist Dr. Alex Delaware. But neither Alex nor Milo are prepared for what they find on an early morning call to a deserted mansion in Bel Air. This one's beyond different. This is predation, premeditation, and cruelty on a whole new level.
Four people have been slaughtered and left displayed bizarrely and horrifically in a stretch limousine. Confounding the investigation, none of the victims seems to have any connection to any other, and a variety of methods have been used to dispatch them. As Alex and Milo make their way through blind alleys and mazes baited with misdirection, they encounter a crime so vicious that it stretches the definitions of evil.