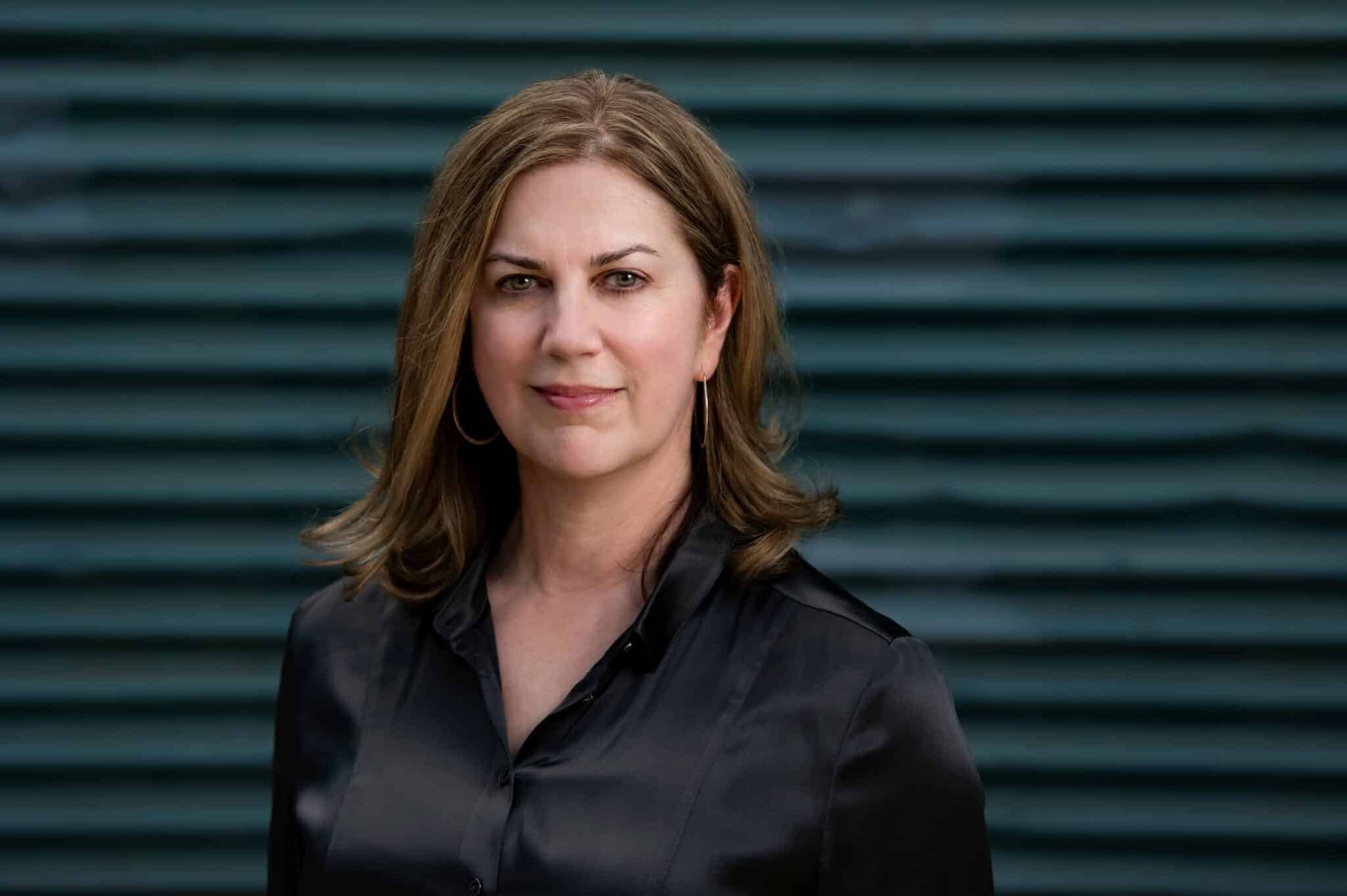 I hope no one is afraid to go out at night after The Poisoned Pen's event on Monday, February 17 at 7 PM. Meg Gardiner, author of The Dark Corners of the Night will appear at the bookstore along with Tess Gerritsen, author of The Shape of Night. Signed copies of both books are available to order through the Web Store. https://store.poisonedpen.com
And, Gardiner's The Dark Corners of the Night comes with a special pin designed exclusively for The Poisoned Pen.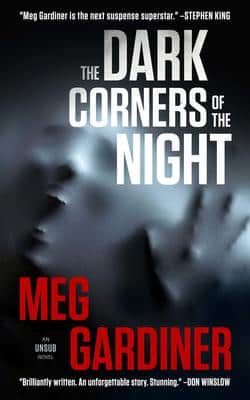 We're lucky to have Meg Gardiner In the Hot Seat today, answering interview questions.
Thank you, Meg, for taking time for an interview. Would you introduce yourself to readers?
Hi, readers! I've written fifteen novels, including UNSUB,which won the 2018 Barry Award for Best Thriller, and China Lake, which won the 2009 Edgar Award for Best Paperback Original. My books are fast-paced, high stakes thrillers with plenty of twists. USA Todaycalls them "Hitchcockian," and the Guardiansays they're "nailbiting and moving."
I grew up in Santa Barbara, California. Before writing suspense fiction, I practiced law in Los Angeles and taught legal writing at the University of California Santa Barbara. I'm a former collegiate cross-country runner, a three-time Jeopardy! champion, and a citizen of the Chickasaw Nation. I wrote my first novel after moving to England with my husband and three children. I now live in Austin, Texas. Meaning, I say "y'all," but with a California accent.
Caitlin Hendrix stars in your UNSUB novels. Would you tell us about UNSUB, and introduce Caitlin?
UNSUB is the FBI's shorthand for Unknown Subject—the unidentified perpetrator of a crime. Caitlin Hendrix is a young profiler in the FBI's elite Behavioral Analysis Unit. She tracks down serial predators. She's smart, gutsy, and intuitive, a cop's daughter who regards it as her duty to protect others. The work she does fires her up. That can undermine the fragile barrier she rigidly maintains for her own protection, between relentless pursuit and dangerous obsession. But the UNSUBs her unit pursues won't stop on their own. Somebody has to stop them. She's that person.
She's also a soft touch for her dog, Shadow.
Tell us about The Dark Corners of the Night, without spoilers.
A home invasion killer is at large in Los Angeles: the Midnight Man. He appears like a shadow, kills the parents, and leaves the children alive as witnesses—telling them, "I am the legion of the night." Caitlin and her FBI unit come to LA to assist with the investigation, and find Southern California gripped with dread. The killer is as slippery as black oil, and his attacks are escalating. The case tests Caitlin to the limit, especially when she begins to suspect that the Midnight Man's life hides a secret that echoes her own past.
I've read this, but many readers may not have. Your UNSUB books are based on actual crimes. Would you tell us about that?
Every novel in the series takes a real crime as its starting point. The books are fiction, but grow from a kernel of fact. Partly that's because UNSUB cases are some of the most difficult and fascinating investigations in law enforcement history. Partly it's because I want to understand what motivates serial predators. And I want to explore what drives the people who take on the burden of stopping them. UNSUBwas sparked by the Zodiac—probably the most notorious unsolved serial murder case in America. The second novel was inspired by Ted Bundy. The Dark Corners of the Night was kindled by a killer who cast a pall of fear over Southern California: the Night Stalker. 
I know you have some news about television. Other than signing a contract, you might not know much about it. What can you tell us about "UNSUB"?
All I can say is that news is coming. Sorry to be mysterious. But as a thriller author, keeping people in suspense is my job. 
You won an Edgar Award for your first thriller, China Lake. Do you remember what you were doing when you learned you were nominated for an award for your debut? 
I'd spent a rainy English morning getting the kids off to school, then fighting traffic to drive a friend to Heathrow airport. Heathrow traffic, if you've never experienced it, is like Mad Max: Fury Road,with added roundabouts. I got home—feeling like I'd done battle, melancholy after telling my friend goodbye—and checked my email. I had a message from Laurie R. King with the subject: Go, Edgar! After a moment of stunned disbelief, I went hunting for confirmation that Laurie wasn't punking me. She wasn't. I was euphoric. And you'd better believe I saved that message. January 16, 2009.
Now, time for just a few non-book-related questions. You lived in London for a while. What did you love best about London?
Heathrow traffic. Every time I survived, I felt like Charlize Theron defeating the barbarian army.
Okay, no. The buzz. The people. The view of Parliament and Big Ben as you cross Westminster Bridge. Knowing you can find a lecture, a play, a concert, a world class sporting event, or a museum exhibit on a moment's notice. Wagamama. Long, lingering summer evenings filled with the scent of roses. Green woods at the end of the lane. Sitting by the fireplace in the local pub on a snowy night. Two thousand years of history that survive amid the city's furious modernity.
You are a Jeopardy champion. What can you tell us about the experience? Favorite memories?
Playing Jeopardy was exhilarating and addictive. Once I got past thinking, Omigod, I'm actually here, the competitive fire took over. I loved every second of the four days I was a contestant. Alex Trebek was personable and reassuring, though he would look noticeably disappointed when nobody buzzed in on a clue—a situation called a "stand and stare."
In my first game, the Final Jeopardy category was Movie Classics. Here's the clue: ""˜I cannot live without my life, I cannot die without my soul,' are Olivier's last lines in this 1939 film."
The other two contestants wrote Gone with the Wind. I wrote Wuthering Heights. This was before I ever wrote a book, but I knew that Olivier had to be playing Heathcliff, mourning Cathy. The line could only be drawn from Emily Brontë's novel. 
READING FOR THE WIN.
"Keep Austin weird." What weird part of Austin do you enjoy?
The music and the food scene. You can find whatever you want here. It's live, it's hot, and it never stops. 
You're getting ready for book tour. What books are you bringing with you to read in airports?
Hanna Jameson's post-apocalyptic mystery, The Last; Sara Paretsky's Shell Game; Adam Higginbotham's Midnight in Chernobyl; and as many books from The Poisoned Pen as I can stuff in my carry-on without toppling over.
Thank you, Meg.
*****
Ready to see Meg Gardiner and Tess Gerritsen on Monday, February 17? Just to tease you, here's the summary of Gardiner's The Dark Corners of the Night.
UNSUB series coming soon to Amazon Originals
Los Angeles Times "Kickass Women Rock 4 New Mysteries" Crime Fiction Roundup
A CrimeReads Most Anticipated Crime Book of 2020
I am the legion of the night …
He appears in the darkness like a ghost, made of shadows and fear—the Midnight Man. He comes for the parents but leaves the children alive, tiny witnesses to unspeakable horror. The bedroom communities of Los Angeles are gripped with dread, and the attacks are escalating.
Still reeling from her best friend's close call in a bombing six months ago, FBI behavioral analyst Caitlin Hendrix has come to Los Angeles to assist in the Midnight Man investigation and do what she does best—hunt a serial killer. Her work is what keeps her going, but something about this UNSUB—unknown subject—doesn't sit right. She soon realizes that this case will test not only her skills but also her dedication, for within the heart of a killer lives a secret that mirrors Caitlin's own past. Hesitancy is not an option, but will she be able to do what must be done if the time comes?
Tense and impactful, Edgar Award winner Meg Gardiner's latest UNSUB thriller will leave you on the edge of your seat until its riveting conclusion.