Michael Connelly is doing a very short book tour for his latest Bosch/Ballard book, The Night Fire. If you can't make it to the special event on Monday, October 21 at 10:15 a.m., you can still order a signed copy through the Web Store. https://bit.ly/2RtzGgK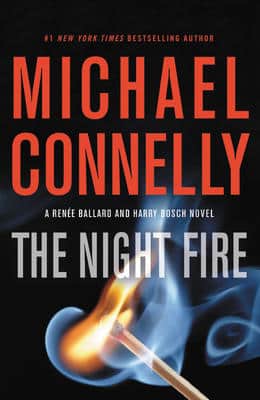 Here's the information about the special event.
Michael Connelly signs THE NIGHT FIRE!
Monday, October 21st at 10:15 a.m.
Special VIP Pre-publication event!
Short program followed by book signing
Venue: The Poisoned Pen Bookstore,
4014 N Goldwater Blvd, Scottsdale AZ 85251
Limited seating available!
CONTACT: Patrick Millikin  Phone – 480-947-2974  Email
$36.00 VIP ticket includes one copy of THE NIGHT FIRE plus coffee and pastries from Arcadia Farms!
We're sorry but no companion tickets will be available for this event. All attendees must have full price ticket.
Start your week off with a special meet-and-greet with bestselling author, Michael Connelly! To help us celebrate our 30th anniversary here at the Pen, Mike will be kicking off his very short US tour for THE NIGHT FIRE with us. Some of remember hosting Connelly for his very first book THE BLACK ECHO back in 1992 and it's always an honor to have him back!
*****
Here's the description of the forthcoming book, The Night Fire.
Harry Bosch and LAPD Detective Renée Ballard come together again on the murder case that obsessed Bosch's mentor, the man who trained him—new from #1 New York Times bestselling author Michael ConnellyBack when Harry Bosch was just a rookie homicide detective, he had an inspiring mentor who taught him to take the work personally and light the fire of relentlessness for every case. Now that mentor, John Jack Thompson, is dead, but after his funeral his widow gives Bosch a murder book that Thompson took with him when he left the LAPD 20 years before — the unsolved killing of a troubled young man in an alley used for drug deals.
Bosch brings the murder book to Renée Ballard and asks her to help him find what about the case lit Thompson's fire all those years ago. That will be their starting point.
The bond between Bosch and Ballard tightens as they become a formidable investigative team. And they soon arrive at a worrying question: Did Thompson steal the murder book to work the case in retirement, or to make sure it never got solved?
*****
You might enjoy hearing Connelly talk about Bosch and Ballard.
And, one quick, fun video in which Michael Connelly talks about writing superstitions.