Barbara Peters, owner of The Poisoned Pen, has hosted Jacqueline Winspear for seventeen of her books. Now, she had the chance to host her for two books. The American Agent is the latest Maisie Dobbs mystery. Winspear also talks about her nonfiction book written because of readers, What Would Maisie Do? You can order signed copies of The American Agent, and also copies of the collectible nonfiction title through the Web Store. https://bit.ly/2JDLy0W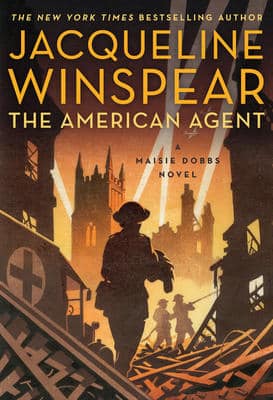 Here's the summary of The American Agent.
Beloved heroine Maisie Dobbs, "one of the great fictional heroines" (Parade), investigates the mysterious murder of an American war correspondent in London during the Blitz in a page-turning tale of love and war, terror and survival.
When Catherine Saxon, an American correspondent reporting on the war in Europe, is found murdered in her London digs, news of her death is concealed by British authorities. Serving as a linchpin between Scotland Yard and the Secret Service, Robert MacFarlane pays a visit to Maisie Dobbs, seeking her help. He is accompanied by an agent from the US Department of Justice—Mark Scott, the American who helped Maisie escape Hitler's Munich in 1938. MacFarlane asks Maisie to work with Scott to uncover the truth about Saxon's death.
As the Germans unleash the full terror of their blitzkrieg upon the British Isles, raining death and destruction from the skies, Maisie must balance the demands of solving this dangerous case with her need to protect Anna, the young evacuee she has grown to love and wants to adopt. Entangled in an investigation linked to the power of wartime propaganda and American political intrigue being played out in Britain, Maisie will face losing her dearest friend—and the possibility that she might be falling in love again.
*****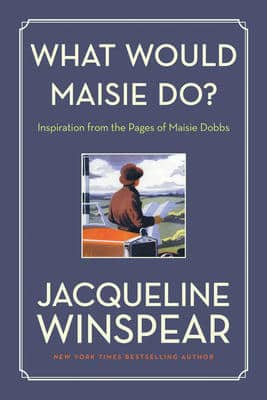 Here's the description of What Would Maisie Do?
A one-of-a-kind illustrated companion to the best-selling Maisie Dobbs series, which invites readers into the beloved heroine's world—and shares her wisdom and inspiration.
Through fourteen books, the Maisie Dobbs series has had a resounding impact on fans. Readers have shared with author Jacqueline Winspear how Maisie's stories have resonated with them or helped them through difficult times. Fans have been inspired by the heroine's resilience and endurance, repurposing her strength in their own lives in a way perhaps best embodied by the phrase "What Would Maisie Do?"
Anchored by thirty of Maisie's most timeless quotes, coupled with Jacqueline Winspear's inspiration for each nugget of wisdom, these reflections offer readers additional insight into the world of Maisie Dobbs and invite them to reflect on favorite moments and memories. Here are just a few:
On the value of respect: "Liking a person we are required to have dealings with is not of paramount importance. But respect is crucial, on both sides, as is tolerance and a depth of understanding of those influences that sculpt a character."
On grieving: "Grief is a pilgrimage along a path that allows us to reflect upon the past from points of remembrance held in the soul. At times the way is filled with stones underfoot and we feel pained by our memories, yet on other days the shadows reflect our longing and those happinesses shared."
On the importance of departure: "Leaving that which you love breaks your heart open. But you will find a jewel inside, and this precious jewel is the opening of your heart to all that is new and all that is different, and it will be the making of you—if you allow it to be."
The perfect supplement to the Maisie Dobbs series, What Would Maisie Do? also features the iconic jacket art that has graced the series, as well as period photographs and prompts for readers' own observations and inspiration—making this a unique journal that fans will turn to and treasure for years to come. 
*****
If you're a fan of Maisie Dobbs or Jacqueline Winspear, you'll want to watch the event and feel as if you were there.