It's always a treat to listen to Joe Lansdale tell stories. The author of The Elephant of Surprise was recently at The Poisoned Pen, and he and Patrick Millikin had quite a conversation about the book and characters. Lansdale calls the latest Hap and Leonard book, "a momentum novel" because once it starts, it never slows down. You can order this book, and Lansdale's other ones through the Web Store. https://bit.ly/2V07gNN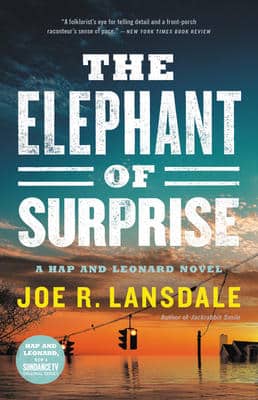 Here's the description of The Elephant of Surprise.
The latest roaring, rollicking adventure from Edgar Award-winner Joe R. Lansdale, featuring odd-couple P.I.s Hap and Leonard.
Hap and Leonard are an unlikely pair–Hap, a self-proclaimed white trash rebel, and Leonard–a tough-as-nails Black, gay, Vietnam vet and Republican–but they're the closest friend either of them has in the world.
After years of crime-solving companionship, something's changed: Hap, recently married to their P.I. boss, Brett, is now a family man. Amidst the worst flood East Texas has seen in years, the two run across a woman who's had her tongue nearly cut out, pursued by a heavily armed pair of goons. Turns out the girl survived a mob hit, and the boss has come to clean up the mess.
On a chase that blows even the East Texas swampgrass back, Hap and Leonard must save the girl, and vanquish her foes, before the foes get them first. With a new case to solve, and a brand-new challenge to their relationship, will Hap and Leonard's friendship survive? Will Hap and Leonard survive?
The Elephant of Surprise is rich with Lansdale's trademark humor, whip-smart dialogue, and plenty of ass-kicking adventures.
*****
I'd really recommend that you watch the event, and listen to Lansdale talk about The Elephant of Surprise.