Wendall Thomas is the author of the Cyd Redondo mysteries. The latest adventure takes Cyd to Australia in Drowned Under. You can order a copy of the first book in the series, Lost Luggage, and reserve a copy of Drowned Under through the Web Store. https://bit.ly/2TBqB6v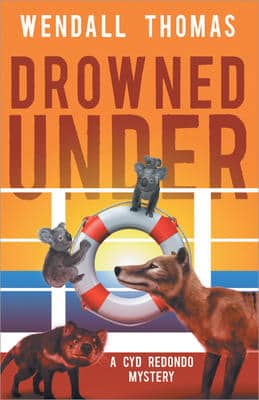 Michael Barson recently interviewed Wendall Thomas for Suspense Magazine. You can catch that interview here. https://bit.ly/2TBufgz
Here's the summary of Drowned Under, the second Cyd Redondo escapade.
"Fans of Janet Evanovich's Stephanie Plum will cotton to Cyd." —Publishers Weekly
Eggnog notwithstanding, travel agent Cyd Redondo is not looking forward to the holidays. The borough of Bay Ridge, Brooklyn—along with most of her family—holds her responsible for landing her Uncle Ray in a minimum security prison.
So, when Cyd's ex-husband, Barry Manzoni, announces his parents have disappeared from an Australian cruise, she rushes Down Under to enlist the help of travel liaison and friend Harriet Archer, who offers a free cabin on the Tasmanian Dream and insider assistance with the search.
Cyd's flights are delayed, so she hitches a helicopter ride to the ship—which lacks a heli-pad. She and her Balenciaga bag barely survive the harrowing drop, landing on a gorgeous man in a Speedo. When she finally makes it to her cabin, she finds Harriet dead, lying in a pool of blood.
The ship's doctor/coroner—now wearing a tux instead of his Speedo—declares the death an accident. While Darling Cruises hurries to cover up the "unfortunate event" and sanitize the crime scene, Cyd scrambles to preserve evidence, terrified the murder is connected to the Manzonis' disappearance, and to prevent the heist of the world's last Tasmanian tiger.