The Hugo Awards are awards for excellence in the fields of science fiction and fantasy. The winners were announced this past weekend. Congratulations to all of the winners, but especially to N.K. Jemisin whose win for Best Novel for The Stone Sky was one of the biggest wins in Hugo Award history. She is the fifth author to have ever received three or more Hugos for Best Novel, and the only author to win that award for three consecutive years. You can find Jemisin's books in the Web Store. https://bit.ly/2MszeBB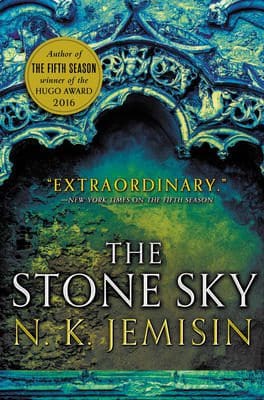 You can also watch Jemisin's acceptance speech on YouTube.
[youtube https://www.youtube.com/watch?v=8lFybhRxoVM&w=560&h=315]
Here is the list of the Hugo Award winners for works from 2017.
Best Novel
The Stone Sky, by N.K. Jemisin (Orbit Books)
Best Novella
All Systems Red, by Martha Wells (Tor.com publishing)
Best Novelette
"The Secret Life of Bots," by Suzanne Palmer (Clarkesworld, September 2017)
Best Short Story
"Welcome to your Authentic Indian Experienceâ"¢," by Rebecca Roanhorse (Apex Magazine, August 2017)
Best Series
World of the Five Gods, by Lois McMaster Bujold (Harper Voyager/Spectrum Literary Agency)
Best Related Work
No Time to Spare: Thinking About What Matters, by Ursula K. Le Guin (Houghton Mifflin Harcourt)
Best Graphic Story
Monstress, Volume 2: The Blood, written by Marjorie M. Liu, illustrated by Sana Takeda (Image Comics)
Best Dramatic Presentation, Long Form
Wonder Woman, screenplay by Allan Heinberg, story by Zack Snyder & Allan Heinberg and Jason Fuchs, directed by Patty Jenkins (Warner Brothers)
Best Dramatic Presentation, Short Form
The Good Place: "The Trolley Problem," written by Josh Siegal and Dylan Morgan, directed by Dean Holland (NBC)
Best Editor, Short Form
Lynne M. Thomas & Michael Damian Thomas
Best Editor, Long Form
Sheila E. Gilbert
Best Professional Artist
Sana Takeda
Best Semiprozine
Uncanny Magazine, edited by Lynne M. Thomas & Michael Damian Thomas, Michi Trota, and Julia Rios; podcast produced by Erika Ensign and Steven Schapansky
Best Fanzine
File 770, edited by Mike Glyer
Best Fancast
Ditch Diggers, presented by Mur Lafferty and Matt Wallace
Best Fan Writer
Sarah Gailey
Best Fan Artist
Geneva Benton
Award for Best Young Adult Book
Akata Warrior, by Nnedi Okorafor (Viking Books)
John W. Campbell Award for Best New Writer
Rebecca Roanhorse