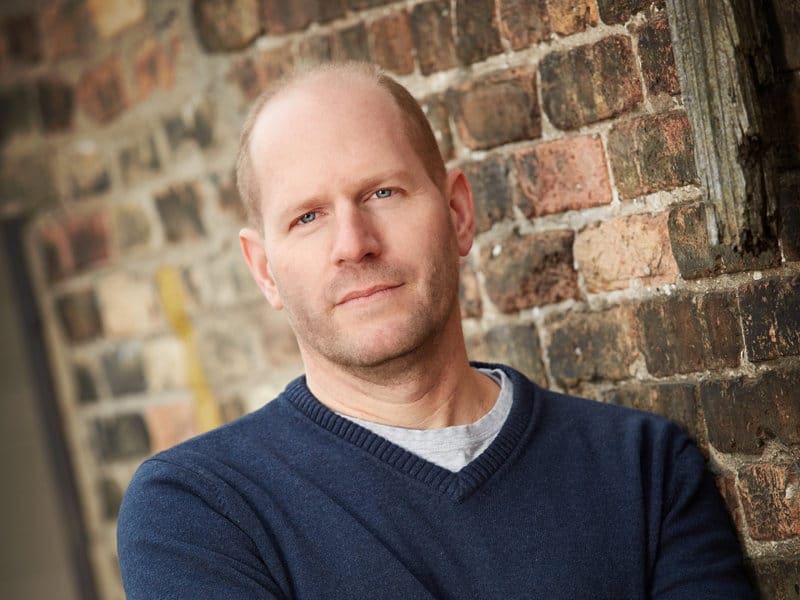 "Lots of characters get compared to my own Jack Reacher, but Petrie's Peter Ash is the real deal…The writing is terse and tense, full of wisdom and insight, and the plot is irresistible." — Lee Child, New York Times-bestselling author of Night School
When you read that quote, you understand why Nick Petrie made the selections he did for his favorite crime novels read in 2017. They're all hard-hitting novels.
Nick Petrie received his MFA in fiction from the University of Washington and won a Hopwood Award for short fiction while an undergraduate at the University of Michigan. His first novel, The Drifter, was nominated for the Edgar and the Hammett Prize for Best Novel., and won the International Thriller Writer (ITW) and Barry awards for Best First Novel. Petrie's third novel in the Peter Ash series, Light It Up, is scheduled for release on January 16. His web site is https://nickpetrie.com/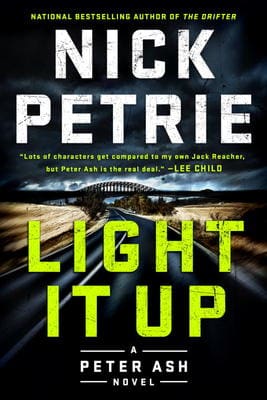 You can meet Nick Petrie at The Poisoned Pen on Monday, January 15 at 7 PM, and he can sign your copies of Light It Up and other Peter Ash novels. Hank Phillippi Ryan will host the program, and Petrie will be joined by Andrew Grant. If you can't be at The Poisoned Pen that night, you can order copies of Petrie's books through the Web Store. https://bit.ly/2ktYXtr
Now, are you curious as to what books Petrie selected as his favorite crime novels read in 2017? If any of his choices interest you, you can order them through the Web Store. https://store.poisonedpen.com/
Thank you, Nick.
*****
I can't possibly write about the three best books I read in 2017, because there are so many good ones to choose from.  Instead I'll share three books that have really stuck with me this year.
Where It Hurts, by Reed Farrel Coleman, really stands out. Gus Murphy, the novel's protagonist, is an ex-cop turned night-shift hotel limo-driver, a walking bruise who can't stop poking at the wreckage of his life and family.  The character's inner pain is so deep, it takes everything he can muster to make it through the day. This has the potential for a grim read, but in Coleman's hands, Gus Murphy is vividly self-aware and darkly funny "" a sad, wonderful, damaged hero.  The rest of his characters, even the most minor, are just as beautifully rendered.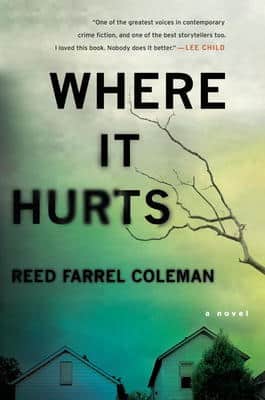 It's also a book you don't want to put down.  Without seeming to hurry, Where it Hurts clips right along.  I won't give away details "" the book is too lovely to spoil "" but the twists and turns are only matched by the lyrical, tough-guy prose. Coleman started out as a poet, and his attention to language is exquisite.
I also love writers who use setting as a character. This book paints a living picture of Long Island, but not the Long Island of the high-dollar Hamptons. This is hungry, desperate, working-class Long Island, with fading businesses and small-time mobsters. I've never been there, but after reading this novel, I feel like I could give a bus tour of the place.
The best news is that Where It Hurts has a sequel, What You Break, and Coleman also has a deep backlist with multiple series to dive into.  
I opened Danny Gardner's debut novel, A Negro and an Ofay, after a long night at a writer's conference. I intended only to read a few paragraphs, then get some shuteye before an early-morning author panel. Instead I stayed up until two a.m., captured by the cadence of Gardner's dialog and the world he was building in my head.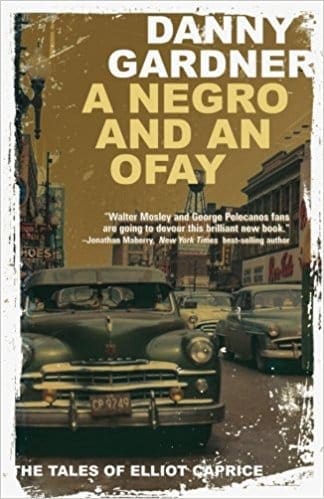 A Negro and an Ofay is set in Chicago in 1952. Elliot Caprice is a mixed-race disgraced Chicago cop, on the run from his former co-workers. He returns home to find the uncle who raised him sick in a flophouse and the family farm in foreclosure. To make things right, Elliot takes a job as a process server, and soon finds himself caught between the Chicago police, a wealthy North Shore family, and the Syndicate.
Gardner's hero is similarly stuck between white and black Chicago "" as the title makes clear, this story is all about race in America, with a front-row seat to life as a black man in the era of Jim Crow and red-lining. The book is not a polemic, but a fast-moving hard-boiled detective story, often hilarious and quite moving. Gardner's characters are delightfully human even as he plays games with stereotypes.  Elliot Caprice is a complex, thoughtful hero with plenty of attitude, a charming and clear-eyed guide to his world.  
Gardner's voice in this book, especially the dialogue, is a real treat.  He writes with an unapologetically chewy dialect, but it works strongly in the novel's favor, because that voice immerses the reader in a time and place and culture that is rarely seen. And once you've fallen into that world, the language seems utterly natural.  
Although Gardner is anything but heavy-handed, his historical perspective on race can't help but cast further light on our own times.
When I ask other crime writers about books they love, Winter's Bone, by Daniel Woodrell, comes up again and again. When I first read it several years ago, I sucked it down in a single sitting.  When I read it again this year, I made myself portion it out slowly, to savor every bit.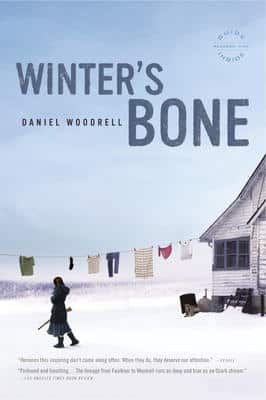 Sixteen-year-old Ree Dolly is desperately poor in the Ozarks, responsible for her two younger siblings and her crazy mother. Her father, arrested for cooking crank, has put the family house up for his bond, then vanished. Ree must find her father "" or proof of his death "" to keep the bondsman from taking the family home. Her path leads directly to her extended family, criminals all.  
Ree Dolly is a wonderful heroine, at once tough and vulnerable, resourceful and desperate to salvage some kind of life for those under her care. The members of Ree's extended family, in all their violence and dysfunction and weirdness, are instantly recognizable.  The winter Ozarks setting is so evocative that you feel the cold wind even when reading on a hot August day.  
Woodrell's language, however, is what truly sets this book apart. At first it's almost startling, because Woodrell does so much with so little, and in such unexpected ways. But you quickly tune into his wavelength and fall inside this gorgeous, harrowing tale.
Because of that beauty and heartbreak, Winter's Bone is a book I will read again and again.
*****
Nick Petrie's selections, and his own books, can be found in the Web Store. https://store.poisonedpen.com/