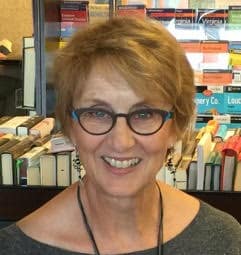 It was perfect timing to ask Terry Shames to share the crime novels she enjoyed reading in 2017. The Macavity Award-winning author of A Killing at Cotton Hill, and other Samuel Craddock mysteries, has a new book in the series coming out in January. If you haven't yet met Craddock, the chief of police in a small town, Jarrett Creek, in central Texas, start at the beginning of the series, or start with the new book, A Reckoning in the Back Country. Terry's books are available through the Web Store. https://bit.ly/2yTHiQ6
Check out Terry Shames' website at https://www.terryshames.com/
If her choices appeal to you, check the Web Store for copies. https://store.poisonedpen.com/
Thanks, Terry, for sharing your choices for favorite crime novels read in 2017.
*****
Last year I was clever enough to keep a list of all the books I read, with little comments and ratings. I was really happy at the end of the year, because it meant I could comment on my year's favorites. But was I clever enough to do it two years in a row? Oh, heavens, no! Life intervened, and before I knew it, it was spring, and since I had already dropped the ball, I never picked it up again.
So when I promised Lesa I would talk about my three favorite mysteries of the year, I had to rely on my old friend memory. I figured that if a book was good enough for me to remember it, it deserved attention. So here are three books I really enjoyed.
I highly recommend Timothy Hallinan's two wonderful series, the Junior Bender series and the Poke Raferty series. You can't go wrong with either of them. But I want to talk about PULPED. It just plain dazzled me. It's a standalone—sort of. It's a leap of imagination based on a series he abandoned several years ago. And I do mean "leap of imagination." It's one of the most innovative books I've read in a long time. I almost hate to reveal the premise because it was so much fun to read and slowly began to realize what was happening.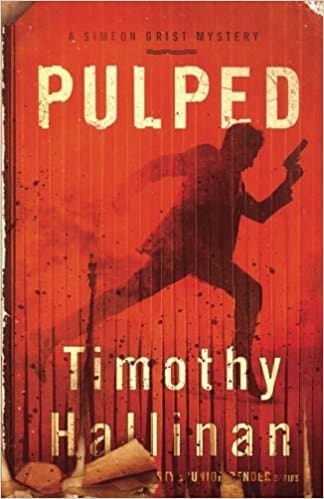 In real life back in the 90's Hallinan wrote six books featuring a slacker detective named Simeon Grist. The series was discontinued, but in Pulped, Grist still lives in some fictional Neverland. The story recounts a tale of Grist coming to terms with the fact that he isn't real—but somehow in the story he finds a crime he needs to solve, and falls in love with a real person. I'm not sure anyone but Tim Hallinan could have pulled this off. It's by turns hilarious, moving, astonishing, and quirky in the best sense of the word.
I read The Woman in Cabin 10 out of curiosity, because it was one of those books that people seemed either to love or to hate. As you can tell from the review of Pulped, I like a book that is innovative—and this book has a great plot. The main character, Lo Blacklock, is roped into one of the oddest situations imaginable—having to spy on people on a yacht via secret passages. And that's just the beginning. Gradually she comes to realize…well, I won't give away the plot. Suffice it to say that Agatha Christie would have been pleased to produce such a nifty plot. The action never lets up. For some readers Lo Blacklock was problematic. She's a drunk, a whiner, and her own worst enemy. But I came to appreciate her because when she's pushed into a corner, she has a gutsy side. Ware's writing is supple and compelling, and the book kept me lunging forward. I truly could not put it down.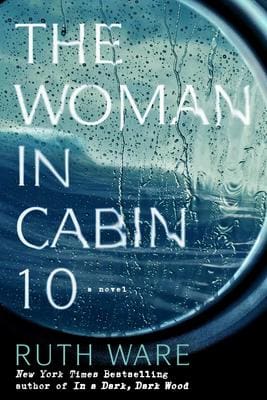 The third book isn't really a book—it's a series by Rachel Howzell Hall. When I am on a panel at a conference, I always try to read at least one book by each panelist. That's how I discovered Hall's wonderful Detective Elouise Norton series. I picked up the third in the series, Skies of Ash at random, and as soon as I got home from the conference I bought the other three. I didn't mind at all going back to the beginning of the series because the books are self-contained. A few words about  Skies of Ash as an example. It's one of those "onion" books. The mystery looks smooth on the outside, but as Hall peels away layer after layer, the story becomes more complex. As the plot deepens there are no gratuitous coincidences or unexplained threads. I don't know what I like best about Hall's books. Her characters are spot on, so that I feel as if I know them, or someone like them. Her descriptions put me right into scenes. And her writing! She uses metaphors as if they slip onto the page with no effort. She doesn't waste words, which for me is a high compliment indeed.
Thank you, Terry, for introducing us to Rachel Howzell Hall's series, and your other choices.