Ann Cleeves latest Vera Stanhope mystery, The Seagull, has just been released. You can order it through the Web Store. https://bit.ly/2f3Y2Ac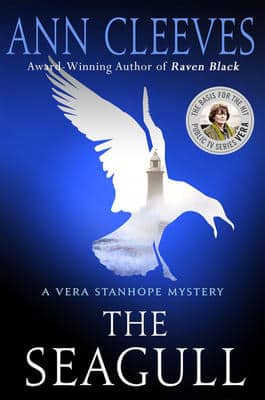 Here's the description.
A visit to a local prison brings Inspector DI Vera Stanhope face to face with an old enemy-former detective superintendent, now inmate, John Brace. Convicted of corruption and involved in a suspicious death, it seems that Brace has mellowed in prison. Notorious wheeler and dealer Robbie Marshall has been presumed missing, but Brace knows he's dead and points Vera in the direction of his grave.
The grave site is a shocking surprise, and the cold case takes Vera back in time-and close to home. Brace, Marshall, and a mysterious stranger known only as 'the Prof', were all close friends of her father, Hector. Hector was one of the last people to see Marshall alive before he disappeared in the mid-eighties from the faded seaside town of Whitley Bay, a wild, sleazy place. The one sophisticated establishment in the town at the time was The Seagull. Everyone involved in the case seems to be connected through the bar, including Brace's lover, the exotic waitress Mary-Frances Escuola who disappeared at the same time Marshall was killed.
To dig up the truth, Vera must overcome her prejudices and confront unwanted memories. Vera's vulnerability and her strength are on full display as she lends support to John Brace's motherless daughter, and comes to terms with the lack of a mother figure in her own life.
*****
But, you're probably here to see Ann Cleeves talk about "Vera" and The Seagull with Brenda Blethyn, the actress who plays Vera Stanhope. Thanks to Pan Macmillan, the publisher in England, you can watch their conversation on YouTube.