Augustus Rose is the author of a debut novel, The Readymade Thief, which is the August selection of The Poisoned Pen's First Mystery Book Club. You will get it if you're a member of that book club, or you can order a signed copy through the Web Store. Here's the link to order it. https://store.poisonedpen.com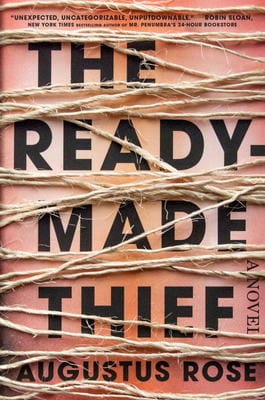 Check out the description of the book.
"A kickass debut from start to finish." —Colson Whitehead, author of The Underground Railroad
"The most must-read of all must-reads." —Marie Claire
"Fiendishly intricate and relentlessly suspenseful." —O, The Oprah Magazine
Lee Cuddy is seventeen years old and on the run.
Betrayed by her family after taking the fall for a friend, Lee finds refuge in a cooperative of runaways holed up in an abandoned building they call the Crystal Castle. But the façade of the Castle conceals a far more sinister agenda, one hatched by a society of fanatical men set on decoding a series of powerful secrets hidden in plain sight. And they believe Lee holds the key to it all.
Aided by Tomi, a young hacker and artist with whom she has struck a wary alliance, Lee escapes into the unmapped corners of the city—empty aquariums, deserted motels, patrolled museums, and even the homes of vacationing families. But the deeper she goes underground, the more tightly she finds herself bound in the strange web she's trying to elude. Desperate and out of options, Lee steps from the shadows to face who is after her—and why.
A novel of puzzles, conspiracies, secret societies, urban exploration, art history, and a singular, indomitable heroine, The Readymade Thief heralds the arrival of a spellbinding and original new talent in fiction.
*****
Of course it's on the blog because it's one of this month's picks. But, it's also here because Augustus Rose has three book suggestions. He's recommending three books that you can order through the Web Store. You can watch the video now. https://bit.ly/2vMGGyz