Best-selling author Karin Slaughter will be here at The Poisoned Pen on Tuesday, August 15 at 7 PM.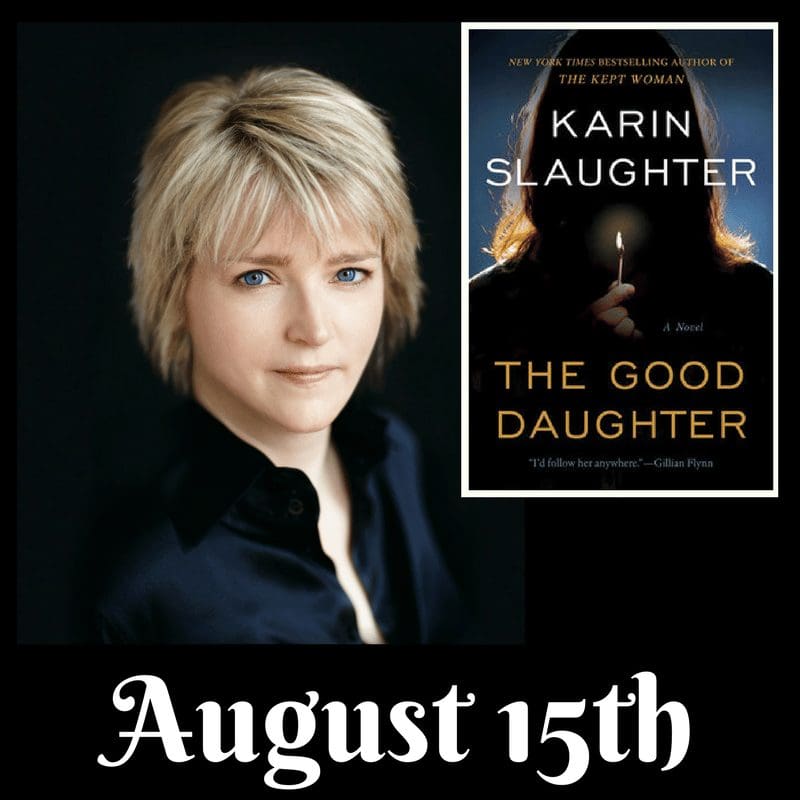 As you can see, she's on book tour for her latest standalone, The Good Daughter. You can order a signed copy through the Web Store. https://bit.ly/2umSSlv Order it quickly because the first 100 orders will receive a special promotional Karin Slaughter "pop socket" for your cell phone.
Here's the summary of The Good Daughter.
The stunning new novel from the international #1 bestselling author — a searing, spellbinding blend of cold-case thriller and psychological suspense.
Two girls are forced into the woods at gunpoint. One runs for her life. One is left behind…
Twenty-eight years ago, Charlotte and Samantha Quinn's happy small-town family life was torn apart by a terrifying attack on their family home. It left their mother dead. It left their father — Pikeville's notorious defense attorney — devastated. And it left the family fractured beyond repair, consumed by secrets from that terrible night.
Twenty-eight years later, and Charlie has followed in her father's footsteps to become a lawyer herself — the ideal good daughter. But when violence comes to Pikeville again — and a shocking tragedy leaves the whole town traumatized — Charlie is plunged into a nightmare. Not only is she the first witness on the scene, but it's a case that unleashes the terrible memories she's spent so long trying to suppress. Because the shocking truth about the crime that destroyed her family nearly thirty years ago won't stay buried forever…
Packed with twists and turns, brimming with emotion and heart, The Good Daughter is fiction at its most thrilling.
*****
Karin Slaughter just announced a contest you might want to know about. Check it out!
#IGotSlaughtered CONTEST
How would you like to have a character named after you in my next book?
Just imagine all of the terrible things I could do to you""fictionally""and think about walking around showing your friends like "Hey, that's me with the clarinet wrapped around my intestines!" **
THIS CAN HAPPEN TO YOU!!!
All you need to do is tag a photo of yourself reading THE GOOD DAUGHTER or LAST BREATH on Instagram or Facebook with the hashtag #IgotSlaughtered
Anyone who posts a photo using this hashtag between August 8th-25th will be entered to win. That's it. One winner will be selected at random. This contest is open to all the readers of the world because y'all complain if I don't do it that way.
*****
The contest ends August 25th, so you can still pick up that signed copy if you come to The Poisoned Pen to see Karin Slaughter. Good luck!