Looking for a thriller? How about Mindy Mejia's Everything You Want Me to Be?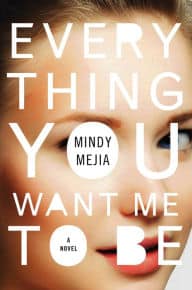 Just check out the summary from the Web Page.
People's Best New Books Pick
The Wall Street Journal's Best New Mysteries
"Fans of Gillian Flynn's Gone Girl will devour this fast-paced story."—InStyle
"Readers drawn to this compelling psychological thriller because of its shared elements with Gillian Flynn's Gone Girl (2012) will be pleasantly surprised to discover that Mejia's confident storytelling pulls those themes into an altogether different exploration of manipulation and identity." —Booklist (starred review)
2017's Best Fiction Books—Bustle
12 Books Gone Girl Fans Should Have on Their Wish List —BookBub
"Full of twists and turns, Everything You Want Me to Be reconstructs a year in the life of a dangerously mesmerizing young woman, during which a small town's darkest secrets come to the forefront…and she inches closer and closer to her death.
High school senior Hattie Hoffman has spent her whole life playing many parts: the good student, the good daughter, the good citizen. When she's found brutally stabbed to death on the opening night of her high school play, the tragedy rips through the fabric of her small town community. Local sheriff Del Goodman, a family friend of the Hoffmans, vows to find her killer, but trying to solve her murder yields more questions than answers. It seems that Hattie's acting talents ran far beyond the stage. Told from three points of view—Del, Hattie, and the new English teacher whose marriage is crumbling—Everything You Want Me to Be weaves the story of Hattie's last school year and the events that drew her ever closer to her death.
Evocative and razor-sharp, Everything You Want Me to Be challenges you to test the lines between innocence and culpability, identity and deception. Does love lead to self-discovery—or destruction?"
Barbara Peters, owner of The Poisoned Pen, interviewed Mindy Mejia, and you can watch the interview on Livestream. https://livestream.com/poisonedpen/events/6902845
If you'd like to buy a signed copy of Everything You Want Me to Be, check the Web Store. https://bit.ly/2k72wUO