What scares Diana Rowland? Maybe it's book deadlines? Check out the Author Shorts video from Penguin Random House.
[youtube https://www.youtube.com/watch?v=iE-nmFNFKA4?list=PLAEeCVmw82hVA1X0cNUrLx7swnfiBokxb&w=560&h=315]
Rowland is the author of the fantasy, The Legacy of the Demon. Here's the description from the Web Page.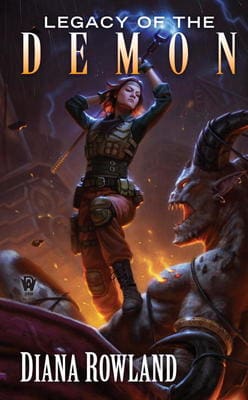 The demon invasion of Earth has begun, and as the world's top arcane expert, demon summoner Kara Gillian is leading the battle against them. Unnatural catastrophes, odd plagues, and martial law of the norm, and Kara is hard-pressed to keep up with the mounting threats. Add in the arrival of demonic lords with conflicting goals, and she has the perfect recipe for global disaster.
Yet when a centuries-old scheme puts the future of humanity on the line, Kara must scramble to stop the machinations, though treachery, hidden dangers, and ancient enemies block her at every turn. Soon she uncovers the disturbing legacy of the demon realm and the hideous betrayal at its core. However, before Kara can unmask the one behind the assault on Earth, she'll need to perform the most dangerous summoning ever attempted"•and if her enemy has its way, it may just be her last.
But no matter how much of her own blood she has to spill, it'll be a cold day in hell before she surrenders.
You can order it, or other books by Rowland through the Web Store. https://bit.ly/2hH2wfJ