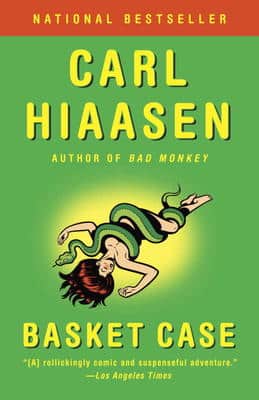 A Carl Hiaasen book may finally be appearing as a series for TV, filled with hijinks in Florida. Keith Rice discusses the news in his article, "Carl Hiaasen's Basket Case Makes First Step to Small Screen", written for Signature-reads.com.
Here's the link. https://bit.ly/2hg1w1c
Here's the description of Basket Case from The Poisoned Pen's Web Store.
Jack Tagger's years in exile at the obituaries desk of a South Florida daily haven't dulled his investigative reporter's nose for a good story. When Jimmy Stoma, the infamous front man of Jimmy and the Slut Puppies, dies in a fishy scuba accident, Jack sees his ticket back to page one—if only he can figure out what really happened. Standing in his way are, just for starters, his ambitious young editor, who hasn't yet fired anyone but plans to "break her cherry" on Jack; the rock star's pop-singer widow, who's using the occasion of her husband's death to relaunch her own career; and the soulless, profit-hungry owner of the newspaper, whom Jack once publicly humiliated at a stockholders' meeting. Following clues from the late rock singer's own music, Jack tries to unravel the lies surrounding Jimmy Stoma's strange fate.
You can order a copy of Basket Case through the Web Store. https://bit.ly/2gRY2z6